A week or so ago, I tossed down a concept about how one could encourage flexible and modular "setting" design supporting the upcoming Dungeon Fantasy RPG (Powered by GURPS). The goal would be to have ready-to-inspire areas to tromp around in, kill monsters, and take their stuff.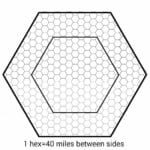 The idea was reasonably well received. Some active discussion on how fleshed out a setting needed to be, and how if you hewed to multiples of 6-mile hexes, you could potentially mine a vast pool of OSR-flavored stuff that is also 6-miles to the hex.
All true, and all good.
The forum poster Nymdok went ahead and sketched out two hex-sizes for me, one a 20-mile subhex, and the other a 40-mile hex. You can see a sample on the right, with link to his Deviant Art page for download. But if you want to call the sub-hexes 18 or 36 miles, I won't tell.
The (Ken Hite) Challenge
I'm teasing a bit. Ken has nothing to do with this, other than providing a nice, juicy quote that I'm going to re-use.
I was working with my Dragon Heresy map, and as we were discussing it, he dropped the line "I'm not going to say 'just use Earth, you big baby.' But just use Earth, you big baby."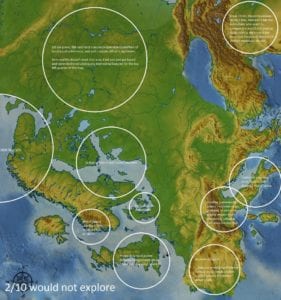 Continue reading "GURPS Hexworld Challenge (with extra bonus Hite action!)" →