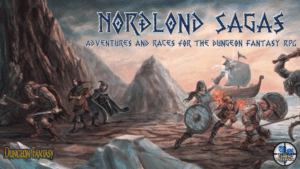 It's another GURPSDay, and here's the last few weeks of posts! Scroll all the way down (the random order is, well, random). Catch up and get some repeat views and if you missed some. They're in reverse chronological order, so if you're up-to-date, just skim off the top!
News for Gaming Ballistic:
The Nordlond Sagas kickstarter closed. It funded and hit just shy of $25,000, but achieved a lower backer count than Hall of Judgment.
Nonetheless, it was close enough to the offset print stretch goal – maybe $100-200 or so between the print costs for POD vs printing it in Latvia – that I decided to declare the goal achieved anyway.
The next step is Backerkit, and getting some idea of shipping sorted out. Since this is "all books," I will work shipping out and get Backerkit open as soon as possible.
Four Perilous Journeys should start shipping this week to international backers. Still working through some shipping customs details on getting the books to the USA, and as soon as that form is filled out, they'll be ready to go. Expect a month to get to TN, then another 1-3 weeks, and then all stuff will be in hand.
GURPSDay is in its sixth – GURPSDay started in February 2013,  a year after I started Gaming Ballistic. Things have slowed down a bit, and I'll be considering how to revitalize this weekly activity. I'd like to see an average of 100 posts here per week – one per blog, ish – so we'll see what we can do to get creative juiced flowing.If you just started a GURPS blog – and I know that some of you have – email me and get on the list! With the advent of the Dungeon Fantasy RPG, Powered by GURPS, there's even more reason to write.
How? Two action items: post more, recruit more. It's really that simple. More posters is more posts, and more interest in GURPS.
Below you can find the blog activity for the last week. There's a whole lotta awesome GURPS going on. Read all the posts.
Not every blog posts about GURPS every week, but some are ridiculously prolific! The list is randomized, so different bloggers will be highlighted at the top of the post each week.
As always, if you're interested in having your blog consolidated here, navigate over to The Instructions Page and drop me a line. Take special note of the RSS Settings Fix if you're on WordPress.
Continue reading "GURPSDay! Sept 27 to Oct 17, 2019" →