Dramatis Personae
The Commander (Doug) – telekinetic super-soldier with a really angry dog (Yukio). The dog is a powerful ally (250-300 points) and very intelligent and very, very aggressive.
Zephyr (Merlin) – Real name Murui; Shaolin Kung Fu expert and super-speedster.
Eamon Finnegan (Kyle) – smooth talking gravity-master; a lawyer so good he can actually prove a negative.
Ezekiel (Christian) – Techno Master, Genius, Esper, Super Archer
Maxwell Robinson (Richard) – apparently a mummy lord
Battle is Joined
When we ended last game, "remnants," pieces of the void made manifest, are pouring through a rift in reality. We all spend all of our karma to move the "dead-o-meter," which is the fraction of the population that will be destroyed in this disaster. I have banked lots of spare karma, so I drop 17 karma into the "ppl not dead" column, reserving 5 Wildcard karma (think of 'em as destiny points or bonus points) for special successes and stuff during the game. Zeke spends 13, also reserving 5. Zephyr keeps his for stunting, which he does a lot. Eamon throws down all 10 he has. So we drop 40 karma into the not-deadpool.
We also get asked what level of risk we'll be taking. "Ludicrous risk" and "all the risk" are the basic answers. We all take the +3 risk pool. It's BAD – "B-Team Awesome Difficulty."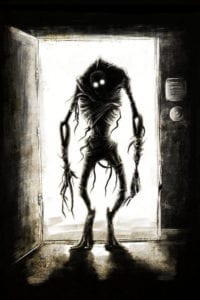 The remnants are nasty. Six limbs, black chitinous nasty, flying, getting bigger. Only kyberic energy works against these guys.
We need to literally put a lid on Yankee Stadium in order to contain the "locusts" that are coming out of the tear in reality.
The players make a quick decision out-of-game to keep all decisions quick and sharp, to mimic the panic and stress in-game. Yay.
Maxwell suddenly goes limp, and something black and wraith-like, or mummy-like, emerges from the deflating body. We knew something wasn't right about him. Meanwhile Zeke turns on the broadcast booth remotely using ESP to keep all of the MAPS teams aware of what's going on; and everyone else who can see it too. That doesn't go over well. Continue reading "Aeon S4E11: The End of All Things" →