Over at Mailanka's Musing, he throws down a fun post, akin to my Technical Natasha effort, describing the fight between Luke and Vader in The Empire Strikes Back.
It's a good breakdown, and worth the read.
One thing that came up in the comments was the frequency of blade-to-blade pushing. This is, I believe, referred to as corps-a-corps in fencing and GURPS.
It's what happens when you get grip-to-grip, in close combat. Lacking something on your blade to bind the other, or an actual grapple, this tends to not last long, and end with no small amount of blood.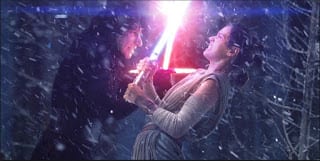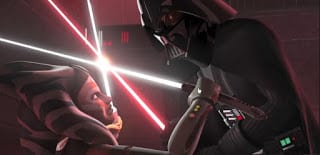 In the various Star Wars movies, though, it goes beyond that. Combatants will frequently stand blade-locked, saber-to-saber. Usually snarling. It does make for dramatic cinema, of course. All that straining. It shows up over and over, too. It was in The Phantom Menace, with an iconic scene of Maul catching both of his Jedi foe's lightsabers on his staff-saber, and holding them there. It was in Empire, as Luke strains against Vader and Vader contemptuously shoves him away. It was in The Force Awakens. It was all over the place in The Clone Wars and even in Rebels.
We do this all the time, by the way, in Hwarang Kumtoogi, the variant of Korean sword-sport that is practiced in Hwa Rang Do. It's very close-in work, and used to deny the advantage of reach and proper form for a strike.
What it's not, at least when done correctly, is an all-out strain-fest. It's probing pushes and bumps, looking for a break in rhythm Hwarang Kumtoogi allows dropping to the knees to do leg strikes, so that's how this usually ends.
But in Star Wars it seems more than that. It seems so much more that I would suggest it's something perhaps even unique to Star Wars, to lightsabers, or just as a mechanical way of representing something that's somewhat iconic to the Star Wars lightsaber fighting method.
It's a grapple
Specifically, it's usually initiated after a grappling parry, but can also be forced by the combatant. It binds the blades in place without the need for an actual grip, due perhaps to the interaction between the blades themselves. (Blah, blah squishy physics, blah.)
But by simulating it as a grapple, you get two key side-effects.
It becomes largely a contest of strength, or control points, which are derived from Trained Strength.
It simulates why people don't just back up or disengage – they cannot.
This was just a though inspired by Daniel's post. But treating this blade bind as a grapple that you can pull off with either a dedicated attack or the grappling equivalent of an aggressive parry would pretty fairly simulate the movies, and make good use of the GURPS rules without invoking lost fingers and limbs through actual grapples, which in a light-saber context, as well as with Telekinetic force users, might be pretty stupid.