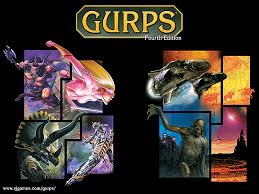 Thursday is GURPS Day! Here are the collected posts from most of January (Through Jan 27 about noon), just to start off with a bang. Further posts will cover only a week at a time.
Starting next week, I'll run the posts Thursday night, probably around 10pm CST. That will catch all of the GURPS Day posts when they're fresh.
GURPS Day has been an amusing thing for me for years now, but I'm vastly excited that it's become something more, with encouragement from Steve Jackson Games themselves.
I've already seen things start to snowball, in a good way, with posts being written based on posts from this community.
And I know it'll keep growing, because there are definitely dozens more GURPS blogs out there, or gaming blogs that mention GURPS. Since I ask that the RSS feeds we scrape are self-filtered (see the instructions), so long as posts are tagged with GURPS and have a good RSS2.0 feed, a blogger can just write as she likes, and the script will put up a link when GURPS is a topic, and not when not.
Complete list is behind the break . . .
Precis – List of GURPS-related posts from 18 blogs from Jan 1, 2016 through noon-ish Jan 28, 2016.
—
RogerBW's Blog (Roger Bell-West)

—
Southern Style GURPS (Chris Bower)

—
Celti's Chatter (Patrick Burroughs)

—
Gaming Ballistic (Douglas Cole)

—
Dungeon Fantastic (Peter Dell'Orto)

—
Mailanka's Musings (Daniel Dover)

—
Insidious GURPS Planning (Mr. Insidious)

—
No School Grognard (Mark Langsdorf)

—
The Collaborative Gamer (Joseph Linden)

—
Northport (Denis McCarthy)

—
Let's GURPS (Pseudonym)

—
Ravens N' Pennies (Christopher R. Rice)

—
One Yard Hex (Paul Stefko)

—
Fragments of the Last War (Bryan Timms)

—
Shooting Dice (Hans-Christian Vortisch)

—
Game Geekery (Warren "Mook" Wilson)

—
Dark Paths and Wandered Roads (Jason Woollard)

Code By Clockwork (Jeff Demers)