Things got interesting on the stat counter on Blogger the last few days.
I mean, here's what happened:
July 18 – 1043 hits.
That's a solid day. I break 1,000 when I post something interesting, or GURPSDay, or both, typically. My record month ever was about 930 hits per day, though unevenly so.
But then
July 19 – 1471 hits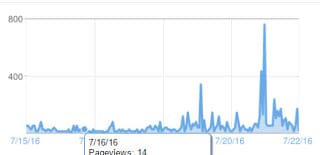 That's really good, maybe my best ever to date. Blogger doesn't really keep archive stats. But 350 of those were a 1-hour spike in hits that is consistent with some sort of automated software, I think. So that's easily dismissed.
July 20 – 2565 hits
Holy. Crap. This is by far the best day I've ever had. The weird thing about it is that while there's spiky behavior, there's rather a few spike, plus that section where I hit 100-240 hits per hour for five or six hours. That's not the usual hit pulse from a bot.
July 21 – as of 8am 1191 hits
If that keeps up I'll do 2,200 hits today.
Analysis


Well, this is all well and good. Google Analytics tells me my traffic hasn't changed at all. But then, Google seems to very much undercount traffic, where Blogger overcounts. So there's that.
I do hope I'm reaching more people. Given the number of followers I now have on Google+ (over 1,000!) I think more people are seeing my site. Also, my best traffic days have always been when I post about 5e, and my Dragon Heresy SRD5.1 work is getting close to a real thing (I have 9 days left in my writing schedule and made major progress in getting one of the hardest, most sloggy sections significantly advanced) and I hope I'm getting hits from that.
We shall see – I hope it keeps up, obviously.