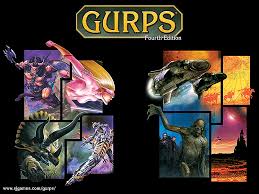 Thursday is GURPSDay, and below you can find the blog activity from the last seven days.
Over the last week, as of 400pmCST today, there have been 37 GURPS-Related posts from our list of 59 60 (!) blogs that have popped up on the radar screen. We picked up two new blogs, too, by the mid-afternoon update: The Generic Universal Roleplaying Blog, and the amusingly-named The Phantom's Belch.
I was up pretty much all night – or at least it feels that way – with a barfy toddler. I did not know that much could come out of such a tiny person. Then my wife, on her way to get wine so the adults could deal with the aftermath of said barfy toddler the only way we know how, hit an open manhole cover that had been floated away by the torrential rain. 50kg of iron washed away and shredded her tire. So. There we go. At least it's GURPSDay.
Not every blog posts about GURPS every week, but some are ridiculously prolific! The list is randomized, so different bloggers will be highlighted at the top of the post each week.
As always, if you're interested in having your blog consolidated here, navigate over to The Instructions Page and drop me a line.
—
No School Grognard (Mark Langsdorf)

—
Cadiz Redemption (Michael Wolf)

—
Let's GURPS (Pseudonym)

—
Dungeon Fantastic (Peter Dell'Orto)

—
Michael Lee Viviano's Gaming Blog (Michael Viviano)

—
Gaming Ballistic (Douglas Cole)

—
RogerBW's Blog (Roger Bell-West)

—
Dice and Lives (Joel Sammallahti)

—
Insidious GURPS Planning (Mr. Insidious)

—
Just Roll 3d6 (Colin)

—
Northport (Denis McCarthy)

—
Worlds Beyond Earth (Derrick White)

—
Mailanka's Musings (Daniel Dover)

—
Dark Paths and Wandered Roads (Jason Woollard)

—
Ravens N' Pennies (Christopher R. Rice)

—
Dr. Kromm's GURPS Livejournal ("Sean ""Dr. Kromm"" Punch")

—
GURB- The Generic Universal Roleplaying Blog (The_RyujinLP)

—
Chain Link and Concrete (M. Eversberg II)

—
The Phantom's Belch (Ted Brock)