Thursday is GURPSDay, and marks the first full week of 2019. It's been a bit of a crazy week for me, as schedules are only now returning to normal after break (the kids are back in school) and trying to work out a good balance of writing and doing other things.
There are, however, things to do. I am busily writing The Citadel at Nordvorn, a mini-setting with far too much going on for its own good, for the Dungeon Fantasy RPG. This is the first of three works that will be published for that game in 2019. As noted in my brief post today: I'm having ridiculous fun writing it.
In personal Gaming Ballistic News:
If you liked Hall of Judgment, and either also play or have friends that play Fifth Edition or Dragon Heresy, the Lost Hall of Tyr (2nd Edition) campaign closed having raised roughly the same amount of money as the 1st edition. That left us short of the offset print run stretch goal at $6,000 . . . but the Backerkit Phase is going very well, especially thanks to a few folks who ordered Viking-style shields! If you can show your D&D-playing friends the link, pitch it to your FLGS, it would go a long way. We're something like $100-400 from that stretch goal, with two weeks left in the Backerkit phase. The more I can get product out there, the better stuff I can do for the Dungeon Fantasy RPG, as rising sales lift all boats.
There's been a lot happening "under the waterline" over at GB, and more will be revealed soon. I will say that several varieties of product, not written by me, are all simmering on the mid-stove. Some of these will really excite SJG fans!
GURPSDay is in its fifth year – GURPSDay started in February 2013,  a year after I started Gaming Ballistic. Things have slowed down a bit, and I'll be considering how to revitalize this weekly activity. I'd like to see an average of 100 posts here per week – one per blog, ish – so we'll see what we can do to get creative juiced flowing.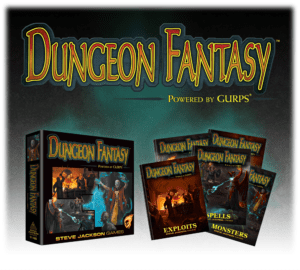 If you just started a GURPS blog – and I know that some of you have – email me and get on the list! With the advent of the Dungeon Fantasy RPG, Powered by GURPS, there's even more reason to write.
How? Two action items: post more, recruit more. It's really that simple. More posters is more posts, and more interest in GURPS.
Below you can find the blog activity for the last week. There's a whole lotta awesome GURPS going on. Read all the posts.
Not every blog posts about GURPS every week, but some are ridiculously prolific! The list is randomized, so different bloggers will be highlighted at the top of the post each week.
As always, if you're interested in having your blog consolidated here, navigate over to The Instructions Page and drop me a line. Take special note of the RSS Settings Fix if you're on WordPress.
—
Dark Paths and Wandered Roads (Jason Woollard)
gurps_20190110/Merlin_Avery could not be parsed – is it empty?
—
Dungeon Fantastic (Peter Dell'Orto)
—
Generic Universal Eggplant (Enraged Eggplant)
—
Noh RPG Group (binn05)
gurps_20190110/Patrick_Burroughs could not be parsed – is it empty?
gurps_20190110/HansChristian_Vortisch could not be parsed – is it empty?
—
Above the Flatline (Timothy Ponce)
—
Testsujin no Llama (Matt Riggsby)
—
Worlds Beyond Earth (Derrick White)
—
Ravens N' Pennies (Christopher R. Rice)
—
Mailanka's Musings (Daniel Dover)
—
Frak Frel and Other F Words (Rigil Kent)
—
Gaming Ballistic (Douglas Cole)
gurps_20190110/Moe_Lane could not be parsed – is it empty?
—
Olympus RPG Group (The Olympus RPG Group)
—
Don't Forget Your Boots (Mitch French)
—
DF Whiterock (dripton)
—
Dr. Kromm's GURPS Livejournal ("Sean ""Dr. Kromm"" Punch")