We had a limited group – just +Anne Hunter and +Wright Johnson. The rest were no-shows, but Anne suggested game on anyway, to see if two 7th level barbarians could tackle the remainder of the adventure.
It was not designed to be too difficult, because I started it before we had the playtest results in that showed that the challenge ratings worked pretty well even up through 20th level.
Anyway, no blow-by-blow this time. But highlights: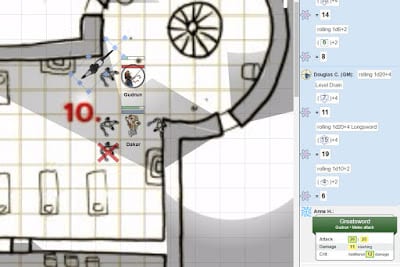 Dakar (played by Wright) took a risk climbing over a 50′ chasm, and biffed the Athletics roll. Ooo. 5d6 direct to wounds, and his wound maximum is 19. Anne, thinking quickly, rages and uses her reaction to cast a rune at him, which is a class ability for the Runic Barbarian, that halves damage from bludgeoning.[1] Dakar also made his Acrobatics roll by 10+, and removed 2d6 from the pool. Net/net, he took 6 wounds from the fall, but made his Constitution saving throw to resist gaining the Injured condition. So hurt but no Conditions. Gudrun (Anne) picked up two levels of exhaustion – one for raging and another for rune casting.
They fought a Wight (Challenge 3) and four skeletons (Challenge 1/4 each). They demolished them, but Gudrun got hit by the wight's level drain ability, and also used her rune casting to hit the wight with radiant damage. So she finished the fight with something like 5 levels of exhaustion.
They locked themselves in that room to take a long rest after that. I was merciful, and didn't throw wandering monsters at them. But I could have, since they'd just had a few loud fights. Dakar healed 2 wounds back, bringing him down to 4. Gudrun crits her recovery roll and recovers 2 levels of exhaustion, still leaving her with 3. She's at disadvantage on all skills and ability checks and attack rolls.
They fought another wight and four skeletons in an upper level, and this time Gudrun did not rage (she was quite tired enough already) but Dakar did, and that ability to halve vigor and wound loss from normal weapons was great for him, as it gave him a lot of staying power even when flanked by skeletons.
The wight hit him with the Life Drain attack too – brought his wound max down to 11, from 19. Fortunately, his prior long rest had him with 4 wounds, so no risk of injury status change.
The wight tried passes at both of them on his skeleton warhorse. He therefore suffered some very nasty opportunity attacks as he retreated away each pass – this gives the advatnage to the footman, which I will need to think about. Maybe invoke the rule about reach or something. Hrm.
We ended there.
Falling is appropriately nasty in Dragon Heresy – the shift to a wound rather than a hit point basis is badass. It makes falling from a height quite risky.
It would have been trivial to keep the pressure on with attacks from other monsters in the castle as they were trying to rest. I didn't, but I could have. Probably should have. SRD5-based games are resource management games, and denying the ability to replenish resources is an important part of the GM arsenal for posing challenges to players. Being trapped in a castle infested with undead and getting into noisy melees will definitely bring out curious monsters. Should have planned for that in advance.
Good session, had a few learning experiences. So useful!
[1] We talked about this after the game, and decided that this won't work – the runes are used on oneself, not others. Still, it was a great idea.