While we're all sitting at home, Gaming Ballistic has not been idle. Lots going on in the background, some of which I can talk about, some I can' or it's not yet time.
Confirmed and Upcoming Projects
In the immediate future, I've got three things on my horizon, though some of them may break into smaller bits.
More Perilous Journeys (2020)
The first thing up, and sooner rather than later, is the next installment of projects for The Fantasy Trip from Gaming Ballistic. It features more works by the same author group as last time, and features five more books.
Two are solos by David Pulver. I should be getting the first draft of one of them Any Day Now, and he'll turn to the other immediately thereafter.
Three are the continuation and conclusion of the Jok Sevantes adventures by Christopher R. Rice and J. Edward Tremlett. I have read and reviewed all three of their submissions. One is in editing with me, the other two went back for revision to the authors with extensive feedback. That is a very normal part of the writing process, and I definitely think that if we can pull off the shared vision of agency, action, and freedom of choice that the revised books promise, they'll be really fun to play.
One thing I'm going to do a little differently for this project is to have the "books" part of the project run differently than the "stuff" part. So counters and cards that appeared in the Four Perilous Journeys project are still on the docket, but staggered so that the "books" and "stuff" supply chains don't cross. I think, overall, this will make the projects go more smoothly.
I also have a thought in mind for that "stuff" project, and I'll bring that up later.
Norðlond Bestiary (2020)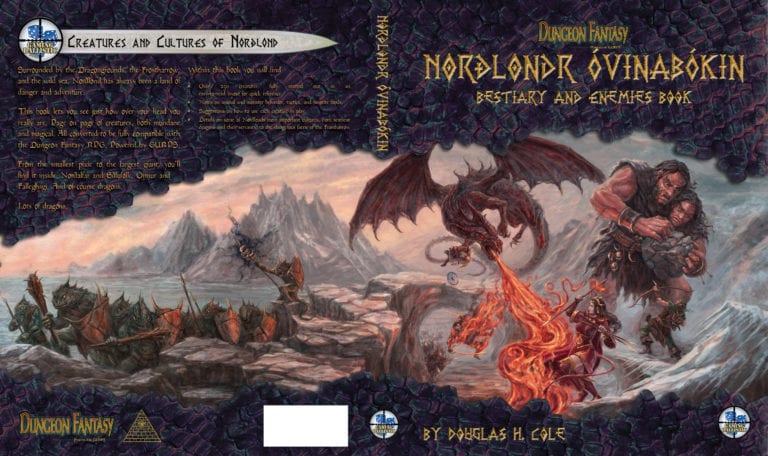 With the bestiary, called the Norðlondr Ovinabokin (Nordlond Enemies Book), I hope to provide a resource for the Dungeon Fantasy RPG that allows folks running games set in Norðlond to just play. Coming up with good adversaries can be very time consuming, and being able to just pick from a list is really handy. That Other Game has had the Monster Manual since I was eight years old – it was published in 1977 – and having that for inspiration and reference was quite handy.
Most readers of the blog know that originally, "The Book of Foes" was written for my stand-alone RPG Dragon Heresy, and has incorporated many of the creatures found in the SRD, eliminated others, and plussed up the sections on regular flora and fauna. Perhaps a third, maybe fewer, of the monsters appeared in the bestiary section of the Dragon Heresy book. But every word of fluff text was new, or modified, to fit the setting.
So there's a LOT done already, and the biggest job is monster stats. As envisioned, this will be a mighty tome. Lots of critters, lots of stats, lots of art. It's going to be a big lift and I hope that folks help me by backing the project heavily!
Mission X (2021)
If you were at virtual FnordCon 2 and attended the GURPS panel discussion, you may have heard the wonderful news (for me, anyway!) that SJG has agreed to allow me to create a stand-alone RPG using the GURPS core. It is technically a "Powered by GURPS" product much like the Dungeon Fantasy RPG.
Tentatively titled "Mission X," though it may change by the time it launches, it will be a modern-day action-oriented game featuring a party of trained operatives heading off into the great beyond to obtain technology and intelligence from a hostile universe. If you read my writeups and notes from my Alien Menace campaign (short-lived due to the arrival of my second daughter), you can see that it grabbed concepts and missions from diverse sources, but featured modern weapons, gear, and tactics plus a "kill aliens and take their stuff" theme to help it feel like "the Dungeon Fantasy RPG in space."
Mission X is going to be more than that, though. I'm envisioning a setup that allows a GM to run modern day Special Ops or SWAT missions, super-spies, and other genres that involve guns. Lots of guns.
My vision for the series is evolving, but I want a faster "on-ramp" for new players, but I also want folks to look and see my imprint on the game, as I finally get some real ballistics in the Gaming Ballistic product portfolio!
Stay tuned. I have to get through quite a bit before I really turn my mind to this, and until I have my own outline for what needs doing, announcing titles or contents of books is premature. Even so: there are several worked-example books already to give the overall 'what does this need to look like?' feel. The Dungeon Fantasy RPG obviously; the Dungeon Fantasy GURPS series, Action (the gift that keeps on giving; read my reviews here), Monster Hunters, and After the End all provide a structure that I would be remiss to ignore.
But there are also things I've written for Pyramid that are very on point, and other things written by Sean that are even more so. My mandate to borrow is pretty wide, but not all-inclusive. I can't hardly wait to get started on it, but first things' first.
Other Projects (2020 and 2021)
There's a lot more going on behind the scenes, too. While the three items above represent the BIG projects already announced, there are others in the works.
I'm chatting with my authors about at least one Nordlond project. All are short-ish, featuring about two dozen pages, providing drop-in flavor to the setting, but exportable outside of it with little work. Some stuff. Some people. Not tied to a particular location or adventure, but rather ready-to-use help in running free-form campaigns. Or inspiring new adventures.
I'd also like to port Nordvorn, Forest's End, and the Dragons of Rosgarth to Dragon Heresy. They're pre-written and filled with art already, so expanding the ability of folks to play the Dragon Heresy game – with its blend of 5e and GURPS concepts – is handy.
There's another big project still in the discussion and development phase; so much so I can't discuss it at all. Next year maybe.
Venture Beyond is under discussion again with David. We both want to do it and it's a matter of time and priority. It's a full-on RPG, and not based on any existing system! Nothing firm as to timing, but it was well advanced when it was back-burnered.
Alternate Crowdfunding Platform
I intend in late 2020 to explore other crowdfunding options more tailored to the RPG space. Some of the post-mortem from 2019 showed that while Gaming Ballistic is capable of producing many volume projects at once (Four/Five Perilous Journeys and Nordlond Sagas), tying them all together in a bundle is complicated and doesn't allow the kind of delivery flexibility that my backers deserve.
So I'm going to look at Game On Tabletop for at least one project, as the platform combines the crowdfunding capabilities of a Kickstarter with an integrated pledge manager and add-on capability, as well as phased approaches to handling shipping. I want to start small, so I get a feel for the platform on my end, as well as ensuring that the slide over to a new spot that's not Kickstarter or IndieGoGo doesn't put too much at risk.