We started up immediately where we left off with Dupond ( +Matt Sutton ) character recalling that a military doctor has been experimenting with electroshock therapy to cure diseases. This Captain Watts is actually here at the facility.
He takes this in stride and approaches Dr. Hampton ( +Douglas Cole ) about the statement from Dupond's countryman that he knows of someone who can cure his wounded eyes. This, of course, being unknown to modern medicine, at least piques his curiosity, and Hampton agrees to accompany Dupond.
Additionally, Dupond looks at the scroll he found, showing it to Dr. Addams, the linguist. The arabic notation refers to the Pharaoh of 1,000 Ravens (Oh. Great.) and looks to be some sort of incantation that is 800 to 1,000 years old. (Ditto.). Dupond is fascinated. "We should try this. Since I was struck on the head, everything is clear. This has been put in our path for a reason!"
Addams: "Yes, but this is incomplete. With more research we could discover more."
Dupond determines that the scoll has been here for fewer than 50 years, and hypothesizes that a partially-complete incantation might have been responsible for the ravens.
Addams recalls (spending an Occult point) stories of a leader who established a 15 year Reign of Terror during that period, but such legends are disbelieved. The Egyptology experts dismiss this theory, but The Pharaoh, in certain circles, were rumored to be half-man, half-raven. Every 75-100 years, references seem to crop up, and then disappear again.
Dupond notes that perhaps the ritual can cure Addams' leg. Addams is skeptical, and speculates (correctly!) that the medical staff isn't going to let him wander around until his leg is properly cast up.
***
Though Dr. Hampton has gotten to know a few of the patients in a short time, his journey across war-torn Europe, complete with being shelled, has rendered him ready to collapse with fatigue. He does so. The next morning, he begins his rounds, surprised at the fairly unsanitary and sloppy behavior exhibited by the "medical" staff. Very few people skilled in surgery (not unusual), but rats, vermin, poor sanitation, and the smell of gangrene permeates every tent.
Most of the doctors are run ragged, and the nurses avoid the head nurse Ogilvy like, well, gangrene. The only one not afraid was Zenna Borden, who we see ministering to a number of different people – none of whom seem to do well.
After a night's sleep and a hard day's work, Dr. Hampton finally reports to Major Parker, the camp CO. He is distracted and distant – even confused – while discussing Hampton's role here, and dismisses him, claiming some errand. He shoves any requests off on Nurse Ogilvy.
Hampton spends a Investigative point on Bureaucracy.
Hampton notes that all requests for administrative control over the camp are diverted to Ogilvy, while the actual medical tasks are handled properly (but desperately). Any organizational or chain-of-command issues, however, are messed up to a fare-thee-well, with Ogilvy having usurped the role of true head of the facility.
***
The journalist, Phillip Gibbs, happens to find that there is another journalist, Jackson Elias, in the compound. He has written on the occult and supernatural perspective of primitive peoples, from a non-believer's skeptical position. His last work was in 1915, chronicling Mayan and Aztec (he got them frequently confused) rituals, called The Smoking Heart.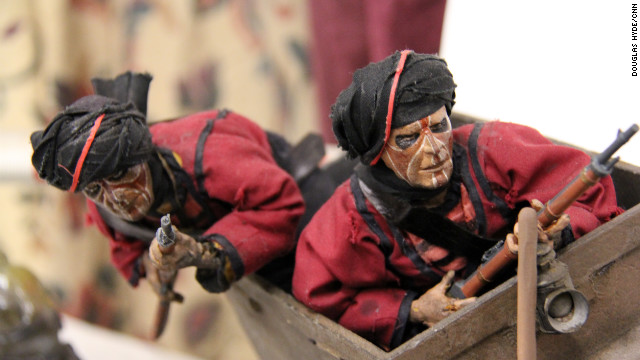 Elias is an American with an arm wound. He was trying to get out of Paris on his researches, when artillery interrupted his travels. He found himself in the medical ward here, and his requests for an expedited departure have fell on deaf ears.
He's currently working on a book about the Thuggees of India, a death cult worshipping Kali.
***
Every time they notice that the injured are not in their beds, they're shuffled back.
***
Dupond meets with Maurice Bowles, and establishes a time and place to meet. Bowles is very cryptic, but seems sure that he is on the trail of being cured. After the meeting, Dupond relates this, with some amusement and some real curiosity, to the rest of the group.
Dr. Hampton is surprised to understand that Nurse Ogilvy is having meetings that don't involve the senior medical staff, especially Major Parker. Naturally, Hampton goes in (and spends a reassurance point to let Parker know that he has his back) and expresses doubt that the nurse should be calling the shots. Parker promises to do something, and winds up getting into a one-sided shouting match with Ogilvy, with the Chief Nurse doing the shouting. Hampton barges into the office, and tries to dress down Ogilvy for breaking both decorum in a hospital and the chain of command. Ogilvy looks down her nose at Doctor Hampton, and notes with a glare at Parker that Hampton "might not work out here." Hampton tries to interject, but Parker actually orders him to be silent and leave the room. Saluting with great propriety and no respect, he leaves.
***
Our investigation and discussion leads us to conclude that Ogilvy, Borden, and Abd Nazari are holding these strange "meetings," with some of the more crippled among the camp being prime candidates for also attending. They seem like they should be greatly suffering, but are doing so less than they should.
***
At about ten in the evening, after the Nurses ensure the patients in their beds
The GM calls for us all to make Sense Trouble rolls. Everyone makes them but Dr. Hampton.
The night turns into shadow, and those shadows move, as out of each tent four or five soldiers try to sneak out of the tent.
Dupond follows, retrieving his service pistol. Addams follows the crowd, so to speak, while Gibbs engages in some discreet shadowing. One soldier, Gieullme de Charlemagne, with a leg wound, challenges Addams. What are you doing? Going for a walk. Clearly. Why. Abd Nazari suggested it. Oh, you're going to see the nurse? I'm going wherever Abd Nazari is, and mutters something in Arabic.
The nurse has found a way to lessen our pain, Charlemagne says. He seems a bit wigged out that Addams has claimed to be chosen of Abd Nazari.
At the meeting, Bowles and Abd Nazari are rather conspicuously absent. Addams and Dupond are there.
Some on-call nurses report that patients are missing from their beds. They wake up Hampton, who goes and reports that some of the more critically injured patients are missing from their beds. He reports back to Major Parker, who delegates it right back to him and goes to sleep.
Hampton fails another sense trouble roll. 0 for 2.
The patients disappear into a basement cellar. Gibbs sees Abd Nazari poke his head out, and close the doors. He also sees nurses and Dr. Hampton poking around looking for the patients. Gibbs waves him down, and tells him that something's going on. Chanting and whatnot.
While the room seems initially like a regular cellar, looking carefully reveals that there seems to be a small section of a Roman-style house underground, and after a bit of a low passage, there seem to be three fairly large rooms joined together, stonework and doorways well preserved.
Though the stonework is Roman, there are well-carved, unnaturally so, Egyptian heiroglyphs and depictions of a Pharaoh slicing the heads off his enemies. Glyphs for ravens and death, and large casualties in battle. The runes chronicle the successes of this Pharaoh, standing victoriously over defeated foes.
In another room, Abd Nazari, Bowles, many enlisted folks. Behind a podium, there is a relief, nearly 10′ high, of a Pyramid, with the top cut off flat. On top of that, is a nasty-looking skull with the skin removed from its face.
As a woman rises and starts speaking and chanting, Hampton sees that the skull is fairly fresh, the skin definitely human, and the eyeballs seem to be moving. She throws back her cowl, and reveals herself to be Zenna Borden.
"The Pharaoh of 1,000 Ravens seeks your souls and your hearts." She then speaks a tongue with which none of us are familiar, "Amon Pek, Fari Fari, Ei! Ei!"
An etherial mist forms, fills a basin that we did not notice before, and a green viscous fluid begins to fill it.
Addams ( +kung fu hillbilly ) feels his pain actually begin to subside. It is no longer the searing break from earlier. Ravens fly down into the chamber (through a shut door?!) and land on everyone . . . but Dupond . . . and then fly off. As they fly, a Raven looks at Gibbs, and in his mind, he can hear a voice say " No hope, no pleasure, no triumph, no bargain. There is nothing you can give that He will accept. He takes what he pleases and will not be cheated."
Gibbs makes a Stability check, and passes fairly well.
+Nathan Joy says "Just remember, if someone asks you if you're a God, you say YES."