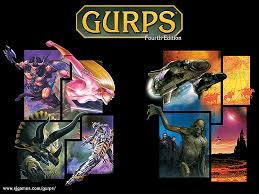 Thursday is GURPSDay, and today marks the end of GURPSDay's May recruiting month.
Well, the good news is we didn't get skunked. The other good news is we are now up to 47 blogs from which we pull. I know there's more out there, though, and just because it's not recruiting month, that doesn't mean you can't drop me a line.
If you missed +Rev. Pee Kitty 's live chat about After the End and other GURPS stuff, you can still check it out as a recording, and now it has a transcript! It was provided to me, and thus I provide it to you, with a bit of embellishment, to start GURPSDay off with an agonized mutant scream. Dirty freaks had it coming.
As always, if you're interested in having your blog consolidated here, navigate over to The Instructions Page and drop me a line.
—
The Lands of Nandeme (Charles Saeger)
—
One Yard Hex (Paul Stefko)
—
Chain Link and Concrete (M. Eversberg II)
—
Cursed -75 Points (BowToChris)
—
Ravens N' Pennies (Christopher R. Rice)
—
Gentleman Gamer (Raoul)
—
Insidious GURPS Planning (Mr. Insidious)
—
Improvised Radio Theatre – With Dice (RogerBW)
—
Game Geekery ("Warren ""Mook"" Wilson")
—
Fragments of the Last War (Bryan Timms)
—
Just Roll 3d6 (Colin)
—
Dark Paths and Wandered Roads (Jason Woollard)
—
Dungeon Fantastic (Peter Dell'Orto)
—
Code by Clockwork (Jeff Demers)
—
Gaming Ballistic (Douglas Cole)
—
Shooting Dice (Hans-Christian Vortisch)
—
Game in the Brain (Justin Aquino)
—
Save vs. Hollowing (Anton L.)
—
Southern Style GURPS (Chris Bower)
—
Let's GURPS (Pseudonym)
—
Mailanka's Musings (Daniel Dover)
—
Set Adrift on 3D6 (Conner)