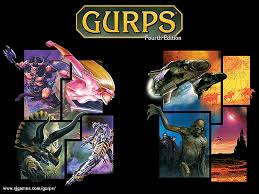 Thursday is GURPSDay, and below you can find the blog activity from the last seven days.
Over the last week, as of 10am CST, there have been 85 GURPS-Related posts from our list of 54 blogs that have popped up on the radar screen.
This week we picked up both Jason "PK" Levine and Sean "Dr Kromm" Punch, both of whom use LiveJournal to record their thoughts.
Not every blog posts about GURPS every week, but some are ridiculously prolific! The list is randomized, so different bloggers will be highlighted at the top of the post each week.
The proprietor of RPGJutsu fixed up the script real nice, and I've been impressed with its stability and reach. I also double-checked the rolls, found that some RSS feed links were not correct in my file, and fixed them. Thus the extra bloggy goodness today.
As always, if you're interested in having your blog consolidated here, navigate over to The Instructions Page and drop me a line.
—
The Lands of Nandeme (Charles Saeger)
—
Southern Style GURPS (Chris Bower)

—
Game Geekery ("Warren ""Mook"" Wilson")

—
Game in the Brain (Justin Aquino)

—
Let's GURPS (Pseudonym)

—
hoploblog (V)

—
Northport (Denis McCarthy)

—
Gentleman Gamer (Raoul)

—
Worlds Beyond Earth (Derrick White)

—
World of Lycretia (Jeromy French)

—
Dungeon Fantastic (Peter Dell'Orto)

—
Dr. Kromm's GURPS Livejournal ("Sean ""Dr. Kromm"" Punch")

—
Save vs. Hollowing (Anton L.)

—
Rindis.com (Rindis)

—
Just Roll 3d6 (Colin)

—
Mailanka's Musings (Daniel Dover)

—
Gaming Ballistic (Douglas Cole)

—
Code by Clockwork (Jeff Demers)

—
Dark Paths and Wandered Roads (Jason Woollard)

—
PK's Game Recaps and Tidbits (PK Levine)

—
Yore (Martin Ralya)

—
Insidious GURPS Planning (Mr. Insidious)

—
Shooting Dice (Hans-Christian Vortisch)

—
Fragments of the Last War (Bryan Timms)

—
Ravens N' Pennies (Christopher R. Rice)