Thursday is GURPSDay! There's still big news floating around the GURPS-o-Sphere today concerning the Dungeon Fantasy Roleplaying Game Kickstarter Update 102.   Phil Reed and Sean Punch have been active and firm on several points: The book's scope will be tightly defined: The art is driving the monster inclusions. The boxed set reprint is linked to the Bestiary. The funding goal will (say it like in 300) not be small, not likely be progressive, and the scope of the project will be controlled and defined. Adding more tokens to a game book is not in the plan. Head on over to any of the forums (Kickstarter, GURPS Forums, GURPS North America Facebook Group) and let them know you're interested if you are, in fact, interested.
In personal Gaming Ballistic News: All of my RPG products are on sale until January 2. Whether as a gift, or for yourself, check 'em out.
GURPSDay is in its fifth year – GURPSDay started in February 2013,  a year after I started Gaming Ballistic. Things have slowed down a bit, and I'll be considering how to revitalize this weekly activity. I'd like to see an average of 100 posts here per week – one per blog, ish – so we'll see what we can do to get creative juiced flowing.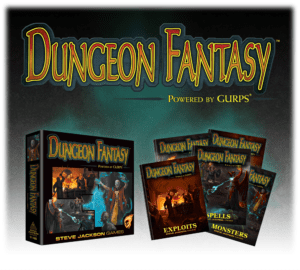 If you just started a GURPS blog – and I know that some of you have – email me and get on the list! With the advent of the Dungeon Fantasy RPG, Powered by GURPS, there's even more reason to write.
How? Two action items: post more, recruit more. It's really that simple. More posters is more posts, and more interest in GURPS.
Below you can find the blog activity for the last week. There's a whole lotta awesome GURPS going on. Read all the posts.
Not every blog posts about GURPS every week, but some are ridiculously prolific! The list is randomized, so different bloggers will be highlighted at the top of the post each week.
As always, if you're interested in having your blog consolidated here, navigate over to The Instructions Page and drop me a line. Take special note of the RSS Settings Fix if you're on WordPress.
—
Worlds Beyond Earth (Derrick White)
—
The Collaborative Gamer (Joseph Linden)
—
Northport (Denis McCarthy)
—
One Yard Hex (Paul Stefko)
—
Mailanka's Musings (Daniel Dover)
—
Noh RPG Group (binn05)
—
DF Whiterock (dripton)
—
RogerBW's Blog (Roger Bell-West)
—
Gaming Ballistic (Douglas Cole)
gurps_20181130/HansChristian_Vortisch could not be parsed – is it empty?
gurps_20181130/Moe_Lane could not be parsed – is it empty?
—
Refplace (Rory)
gurps_20181130/Patrick_Burroughs could not be parsed – is it empty?
—
Above the Flatline (Timothy Ponce)
—
Daydreams of a Dragon (Dragondog)
—
Dr. Kromm's GURPS Livejournal ("Sean ""Dr. Kromm"" Punch")
—
Sharrukin's Palace (Jon F. Zeigler)
gurps_20181130/Merlin_Avery could not be parsed – is it empty?
—
Ravens N' Pennies (Christopher R. Rice)
—
Generic Universal Eggplant (Enraged Eggplant)
—
Dungeon Fantastic (Peter Dell'Orto)
—
The Lands of Nandeme (Charles Saeger)
—
Let's GURPS (Pseudonym)
—
Dungeons on Automatic (Kyle Norton)