Lost Hall of Tyr is coming to Dragon Heresy
In a few days, I'll launch the Kickstarter for Lost Hall of Tyr (2nd Edition).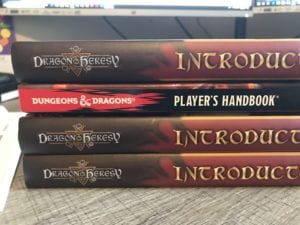 This is a somewhat unusual crowdfunding effort, in that there are really only two or three things I'm trying to do here. The order of the funding goals for the campaign changed while I was thinking about it, in order to maximize success and deliver the best product folks want.
Upgrade the digital/stock asset combat maps with Glynn Seal's stylistically great pen-and-ink drawings
Upgrade from POD to high-quality digital printing
A large-scale, softcover print run from an offset printer
If possible, a large-scale hardcover print run so the books match the Dragon Heresy core book
In short, the purpose of the campaign is to make a spectacular print run, worthy of the Dragon Heresy Introductory Set's production values. And provide a companion module to sit on the shelf on stores next to the Dragon Heresy core book.
Why a Second Edition
Quite simply, the expansion of Lost Hall 1e into the Dungeon Fantasy RPG version "Hall of Judgment" made the book better in every way. Art. Maps. Setting details. The publication and distribution of Dragon Heresy meant that I had a great core book out there with no support. Lost Hall 1e made for a great convention scenario but not a great long-term campaign.
So I'm reformatting the new content for the 8.5×11″ form factor of Dragon Heresy, and revising it for the Dragon Heresy rules.
Got the Lost Hall PDF already?
If you have already purchased the Lost Hall of Tyr 1st Edition PDF, you'll be getting a copy of the new edition for free. If you got it on DriveThru, you'll likely get a link on DriveThru. If you bought it from my website, you'll get a link from there, or an email.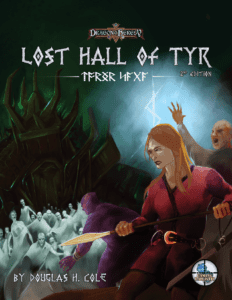 This crowdfunding effort is only for the print copy. It's going to be a great looking book, especially in hardcover. I've selected 105#/157gsm matte-coated art paper for the interior, and 2.5mm boards. The overall 112-page book will likely thus be about a half-inch thick, and will in all cases have either a lay-flat and smyth-sewn binding.
The book will also have a new cover – and a first-pass of it can be seen to the right. Juan wasn't entirely happy with it, though, so it'll be revised during the Kickstarter to make it even better.
June? Really?
I'm allowing lots of time in case we actually hit the stretch goals to do the maps and hit the offset print run. That's really it. I hope to have it sooner than June, but Dragon Heresy took a long time to get done. The results were worth it, but they were time consuming.
This is the intended schedule. 
December 2018:

Kickstarter campaign

January 2019:

Funds settle, Backerkit phase; prelim PDF distribution for error proofing; new maps worked

Feb 2019:

PDF finalization and print order submission; final PDF distribution

March-May 2019:

Print overseas; transit to warehouse; fulfillment

June 2019:

Delivery of hardcopy product to backers 
Retail and Bulk Order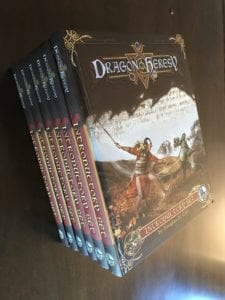 The top tier is four copies each of Dragon Heresy and the new Lost Hall of Tyr. This is designed for stores, but thinking about it . . . if you want lots of them, you can have lots of them. I'm not closing this off from personal purchases: if you're a store? Great. Please let me know! If you're a person and you want to buy a bunch of them for whatever reason? Awesome.
Please Support Gaming Ballistic
I've got big plans for 2019, and Lost Hall 2e is the first of four products I hope to release supporting the Dragon Heresy line. Three of those four are being written right now, and two of them are from "not me," which means other authors are stepping up to the plate. Support for the Dungeon Fantasy RPG will continue as well, with each adventure being available in two versions (not dual-statted), with an appropriate form factor for each line: 8×10 softcover for the Dungeon Fantasy RPG, and (ideally, with your support), 8.5×11 hardcover for Dragon Heresy.
Please help spread the word, let your local gaming stores know about Dragon Heresy and this Kickstarter, and with your help, 2019 is only the beginning.