Thursday is again GURPSDay, though I'm posting on a Friday. How very LEGO Movie.
An eventful week for GURPS. Don't believe me? Fine! Check out the GURPS News, which is chock full of new info. Also SJG released Steampunk 3: Soldiers and Scientists yesterday.
Dungeon Fantasy Monsters 2 was put on the "watch this space" calendar, and both the Foreword for Citadel as well as a few other places confirm "March" as the Kickstarter launch date. Since the Pocket Box Kickstarter ends today, perhaps next week? Perhaps a week to breathe? We shall see . . . but it's close.
Also, The Citadel at Norðvorn went live on Kickstarter Tuesday, Feb 19. We're at just over $8,100, which is 62% funding, as of this note. There are also 179 or more folks following the campaign that haven't jumped in yet, so the potential to fund is there.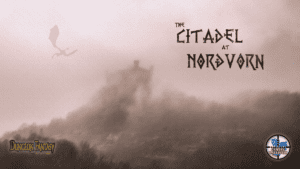 As a personal plea: if you can do it, jump in early. I like to get started on things sooner rather than late, and funding means I can commission artwork confidently and start engaging the rest of my team. The future of Citadel isn't quite the future of the DFRPG, but the two are linked, as well as the success of Dungeon Fantasy Monsters 2. Go read Sean Punch's entirely fascinating foreword to Citadel.
I also teased the cover to another upcoming volume of my own: "Fantastic Dungeon Grappling." This short book (no longer than 16 pages) will revise and extend the short-and-sweet grappling rules from Hall of Judgment. The Citadel Kickstarter will be the place to get it when that add-on goes live, as well as a spiffy set of bookmarks for monsters and characters to keep track of control points, laminated so you can use them with dry-erase markers.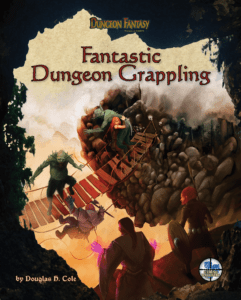 In personal Gaming Ballistic News:
The Lost Hall of Tyr 2nd edition physical print proof from both printers arrived. The US printing is finished and 10 boxes of books will arrive at my house today. The UK printing loks good in most respects, but the art was streaky and showed striations that my wife pointed out in the artwork. They're re-doing the proof to make sure it's at least as good as the most excellent Hall of Judgment printing, also done by them. The US books will thus arrive three months early; the UK books probably closer to two.
I posted a hoped-for publishing schedule for me in 2019.
I'll be headed down to FNORDCon April 6-7, and running a table. Lots of Nordlond, maybe a preview of Citadel even, and several surprises
Also: I received the first full manuscript for The Fantasy Trip, by Christopher R. Rice. I am expecting to receive a second one by David Pulver any moment now. TFT fans will recognize those two names as having already published TFT adventures, and these two are the first of the ten I'm contracted for in 2019. More on that later . . . but I can confirm these are all different, and none of them are set in Norðlond for the moment. Could these be worked backwards into GURPS or Dragon Heresy? Absolutely . . . but first play 'em in TFT!
GURPSDay is starting its sixth – GURPSDay started in February 2013,  a year after I started Gaming Ballistic. Things have slowed down a bit, and I'll be considering how to revitalize this weekly activity. I'd like to see an average of 100 posts here per week – one per blog, ish – so we'll see what we can do to get creative juiced flowing.
If you just started a GURPS blog – and I know that some of you have – email me and get on the list! With the advent of the Dungeon Fantasy RPG, Powered by GURPS, there's even more reason to write.
How? Two action items: post more, recruit more. It's really that simple. More posters is more posts, and more interest in GURPS.
Below you can find the blog activity for the last week. There's a whole lotta awesome GURPS going on. Read all the posts.
Not every blog posts about GURPS every week, but some are ridiculously prolific! The list is randomized, so different bloggers will be highlighted at the top of the post each week.
As always, if you're interested in having your blog consolidated here, navigate over to The Instructions Page and drop me a line. Take special note of the RSS Settings Fix if you're on WordPress.

—
Gaming Ballistic (Douglas Cole)
—
Olympus RPG Group (The Olympus RPG Group)
—
Above the Flatline (Timothy Ponce)
—
Dark Paths and Wandered Roads (Jason Woollard)
—
Generic Universal Eggplant (Enraged Eggplant)
—
Octopus Carnival (Ubiratan Pires Alberton)
—
DF Whiterock (dripton)
—
T Bone's GURPS Diner (T Bone)
—
Testsujin no Llama (Matt Riggsby)
—
Dungeon Fantastic (Peter Dell'Orto)
—
Worlds Beyond Earth (Derrick White)
—
Northport (Denis McCarthy)
—
Mailanka's Musings (Daniel Dover)
—
Improvised Radio Theatre – With Dice (RogerBW)
—
Ravens N' Pennies (Christopher R. Rice)