Foreword (Douglas)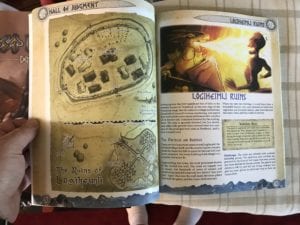 Hall of Judgment was a successful Kickstarter that produced a – even if I do say so myself – fine, playable, good-looking product. Even so, it's nice when a creator gets feedback, and my ego appreciates stroking as much as the next man. Even better than compliments on the book itself is that most Fremen of compliments: "Your plan worked, Muad'Dib." In short, as Peter Dell'Orto would say: "Did it work in Actual Play?" So what follows is a bit of an instigated post. Simone De Bellis posted that he was playing Hall of Judgment with his group, and had gone through several sessions worth. I nudged him to write up a play report, and he willingly obliged. So here's a Hall of Judgment actual play report!
He posted the results on the GURPS North America Facebook Group, and I'm reproducing that here. He's not a native English speaker; I believe he's from Italy, and I've done some editing, with his permission, for clarity.
What follows is an example of how to play Hall of Judgment while dropping it into a very unique and self-sculpted campaign world. He didn't feel the need to conform to my assumptions of the world of Norðlond, and did things his own way.
This is as it should be.
Read on for details! And pick up a copy today – either from Warehouse 23, or my own webstore. Continue reading "Hall of Judgment: Actual Play report (guest post)" →