Prelude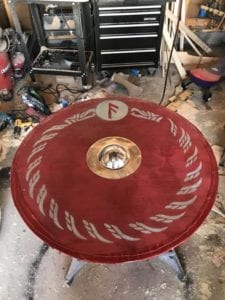 I'd been looking for a long time to find a source of very thin hide to try and face-and-back a shield. I had been told by my instructor at Asfolk Viking Martial Arts school that the evidence for a hide-faced shield was hit and miss; some were most likely raw wood, some were rimmed with hide and stitched, some may have been faced, etc. As with most things Viking, the relative paucity of physical artifacts means that every new find brings new and exciting information.
Nonetheless, if you've been following this blog at all, you've seen my learning the craft of making shields bit by bit, and that I also offer them for sale. One thing that always eluded me – mostly due to a lack of a good source for the hide – was the "parchment-thick" hide that my instructor says would have been used. I use goat hide claimed at 1 oz thickness (about 0.5mm thick) for the edges, but those hides are not large enough to cover a full-sized shield.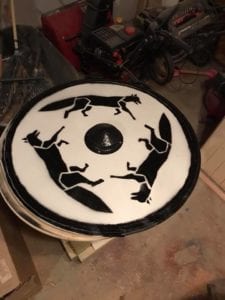 My existing "red" shield has been in use for quite a while now, and the edging, though one of my earlier trials, has held up well. I also made a pair of "three fox" shields, one as light as I could make it (less than 5 lbs!) of aspen, with a very light stainless steel boss (5 oz) so that the jarl of the Viking Encampment at the Minnesota Renaissance Festival could march with it, and a much more robust one of poplar, edged in deer hide, with a too-thick robust boss. Even so, that one came in at 7 lbs, which was several pounds lighter than her prior shield, which was too heavy for both performance and parade use.
Nonetheless, I wanted to try one of my own.
Continue reading "Crafting: Hide-faced Viking Shield Experiment" →