I wrote
The Last Gasp
in order to put lulls and flurries into combat, among other things. I wrote
Delayed Gratification
because I didn't really like Feints much, and introduced the Setup Attack as a notional replacement or supplement.
But I was thinking about Feints and Waits (next week! Melee Academy is May 9!) partially as a response to the conversation that +Justin Aquino started in this thread. Then I started thinking about boxing, kendo, and other situations where there are lulls and flurries.
I've noted in the past that Aim is a bit deterministic. Evaluate suffers from a bit of the same problem – you get up to +3 from doing it, and then you've evaluated enough and you're done.
Is there a way short of "I'm so exhausted I have to stop and recover" to model two fighters circling, probing, looking for an opening? What happens when they do that? Well, their weapons don't become unready, certainly, unless something is truly biffed, maybe. No blows are exchanged. But in the end, when the probing is done, one fighter has detected (or thinks he has detected) an opening.
Hmmm. That sounds an awful lot like what a full-round Feint might be.
A related diversion:
A long time ago (over a year), +Sean Punch who has a knack for rules tweaks (and he should, it's his job) threw down casually a post he wrote in ten minutes, that gave an idea about what he called Combat Openings. I dropped him an email asking if he'd mind if I reposted it in full. Naturally he said yes.
Combat Openings
Optionally, on each turn before you attack your opponent, roll on the Hit Location Table (p. B552). The resulting body part is currently a "target of opportunity" for you. It's presented boldy and easier for you to hit: halve the penalty to hit that location, rounding in your favor, if you deliberately target it right now. The torso can't be a target of opportunity – if you roll 9-10, roll 1d on the following table instead.
1 – Your foe's weapon isn't ideally placed to defend against you. If you attack his weapon right now (to grab it, disarm, etc.), you get +1 to hit and he has -1 to defend. If you try an unarmed grab, his defense can't injure your hand even if he parries with a weapon. If he's unarmed, treat this as a presented hand.
2 – Your foe isn't watching your off hand. If you attack with that hand right now, you get +1 to hit and he has -1 to defend. This includes shield bashes! If you try an unarmed punch, his defense can't injure your hand even if he parries with a weapon. If you're using a two-handed weapon, these benefits apply to a blow with the pommel. If you're grappling him with both hands, treat as 3.
3 – Your foe isn't watching your feet. If you kick him right now, you get +1 to hit and he has -1 to defend. His defense can't injure your foot, even if he parries with a weapon.
4 – Your foe isn't controlling distance or position well. If you grapple him right now, you have +1 to hit and he has -1 to defend. If you try an unarmed grapple, his defense can't injure you even if he parries with a weapon. If you're already grappling him, treat as 5. If he's grappling you, you have +2 to break free instead. If both conditions apply, you may choose one option.
5 – Your foe is momentarily off-balance. If you make a knockback-only attack (like a shove) right now, you get +2 damage for knockback purposes only. If you try to knock him down with a move that uses a Quick Contest (like a takedown or a Sweep), he has -2 in the Contest instead. If either is an unarmed move, like a barehanded shove or a sweeping kick, his defense can't injure you even if he parries with a weapon. If he's on the ground, treat as 3.
6 – No special effect. Somehow, your foe is watching everything and presenting nothing!
These effects only apply to your attacks on that one foe. Nobody else on the battlefield is affected by these roll(s). To take advantage of this turn's opening, you must act now; you cannot try another attack first, much less wait until a later turn.
Pretty neat, I thought.
Put it Together


What if, instead of the usual Contest of Skills where if the attacker wins, he gets his margin of victory as a straight-up defensive penalty to his next action, we did something else. First, let's redefine what a Feint is. It's a deceptive motion used to try and goad or lead your foe into providing you an opening. Feint is such a good name, but I really ought to come up with something else, for clarity. I'll call it a Probing Feint, with many apologies to those who have ever been probed.
I'm going to throw down a concept, and then pick it apart afterwards.
Probing Feint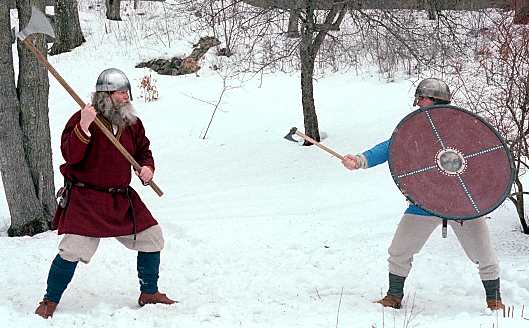 This represents deceptive footwork, clever movement of the body, or shifts in posture (but not GURPS Posture), distance, or weapon position designed to draw your foe off guard.
Probing Feint is an Attack Option. Meh. It should probably be what it says: a type of Feint.
Roll a Quick Contest of your weapon skill vs. the best of your foe's weapon skills. If you win, roll 1d and consult the following table:
1 – Hit Location. Roll the hit location table. Strike that target using grappling penalties, or grapple at no penalty. If Torso is rolled, strike at +2 or grapple at +1 to hit.
2 – Weapon Position. If you attack his weapon, you are at +1 to hit and he is at -1 to defend; if you try and knock it away, you are at +3 in the Contest.
3 – Off hand. See Sean's #2.
4 – Foot blind. See Sean's #3.
5 – Distance or Position. You gain an extra yard of movement if you step; if your foe retreats, his bonus is reduced by 1. If you attack to grapple, you do so at +1 and your foe is at -1 to defend.
6 – Balance . See Sean's #5
If you win the Contest but can't take advantage of the opportunity – or choose not to – you may treat your maneuver as if you took All-Out Defense.
Margin of Success
Sean's concept is something that's meant to provide an extra incentive to vary things up. My version takes his concept and alters it a bit, possibly for the worse. His version usually gives +1 to hit and puts the foe at -1 to defend against a particular kind of attack. That's sort of the equivalent of a +3 sh) on an attack roll. Pretty light, and you might not be able to take advantage.
Maybe instead of the +1 to hit/-1 to defend thing, we allow a flat adder of margin to the next attack, which can be used as you like – any defensive penalties would come from Deceptive Attack using that bonus. That would provide a variable and potentially large – but aspected – bonus.
Defender Success
Maybe if the defender makes his skill roll, he gets a bonus to his defenses except for the opening. If he makes his roll and loses the contest, perhaps it converts to a +1 to defend for every 2 he makes the roll by (again, excepting the hole in his defenses that the Probing Feint revealed). If he makes his skill roll and wins the Contest, he gets a bonus to defend against everything from that foe. Maybe something like +1 if you make it at all, and for every 4 full points more, you get another +1. So if the defender makes his skill roll by 8, he gets +3 to defend against his for.
More importantly on this one, his foe knows this. He can see that his opponent is that well protected, has good defenses, isn't off balance, etc. Some reason not to just wade in and trade blows.
Rapid Strike
Maybe this only makes sense as part of a Rapid Strike. So you Probe at -6, and if you see an opening in the defenses, you can leverage it.
Or maybe you go the other way, and if you win the contest by more than 6, you can convert the hole immediately to an attack by accepting -6 to your bonus. So you roll the Contest and win it by 8. Rolling 1d6 you get a 2. You may immediately attack his weapon at +2, which you may use to cancel out the normal -4 for striking at a weapon a bit, or use it as a -1 Deceptive Attack.
Wait
The "I feint, then my foe goes, then I go and take advantage!" thing has never rubbed me right, and I know I'm not alone. The reason, I'm sure, that Sean did it as the first thing you can do during each round is to identify something you can leverage
right then.
So maybe the right thing to do is to use this as an Aspected Wait. If you win the Contest, you declare a Wait, and if your foe triggers it, you get to leverage the hole in his defenses.
Now this, in turn, would only make sense if you're standing outside the striking range of your weapon. In fact, in Hwa Rang Do Gumtoogi (weapon fighting with swords, either long, short and long, or double short), we used to say that if you were in a certain distance – likely between Reach 1 and Reach 2 – if you weren't either hitting the other guy at Reach 2, you'd better be closing to Close Combat! So perhaps this should only be used from a Reach at least 1 greater than the maximum of your weapon. I can use the Rapid Strike version to take a Committed Attack with the Long option if I really rock out, or I can take a Wait and leverage the defensive hole if my foe closes in. If I choose to do so, I can convert the Wait to All-Out Defense instead, since I've been reading the guy.
Evaluate


Christian reminds me below that I totally left out what might be the best fit of all: Evaluate. Where right now, it gives you a simple +1 for sitting there staring at the battlefield for a moment, there's every reason to allow it to have even better results. Whether it's a Perception-based Skill roll, or a flat skill roll, or a contest of skills as I lay down below, triggering this off of an Evaluate makes a lot of sense.
It would be interesting to allow repeated uses of this too – once you've picked out an opening in your foe's defenses, if you keep winning the contest (or he keeps failing his skill roll, which might obviate this entirely) you might get more and more opportunity to exploit that hole.
Parting Shot
Even if what I have here in particular isn't exactly right – and I know it's not – I feel like there's something here. Some combination or modification of Feint, Wait, Evaluate, and maybe even Rapid Strike.
What's missing, of course, is that GURPS combats take damn long already. You'd need to be pretty happy with doing not much but waiting for your opening for second after second, while other people might be doing stuff around you. That gets boring, and probably the above might just become a lot of crap no one bothers with.
Still, the overall feel of it seems right – and I have to wonder how it would play in something like
+Vaclav Tofl
's gladiator game, where the cautious probing – or even showboating while doing so – is a key part of the game.
In a frenzied battle, this wouldn't happen, and GURPS default combat would be the norm. That also seems right to me, especially combined with The Last Gasp's Action Points, which would encourage a few frenzied seconds of action, then backing off – if you can – to catch some wind and look around.
Game Timing and Fight Timing
Some of this gets down to a very simple principle, though, which
+Peter V. Dell'Orto
will have already started typing a response to by the time he gets down this far. While it might be realistic to have two fighters (or twenty…have you seen
how many foes
he had in his last session?) staring at each other,
not
trading blows, but making subtle motions and deceptions to try and force a mistake, unless everyone else on the battlemat is doing the same thing, and unless the flurries that come when an opening is found are decisive, the end-of-game report on five blogs will be "we spent an hour rolling dice and not finding openings. This game sucks."
It's a hard thing. You want to have a reasonable shot at capturing the detail of combat, since your character's life is on the line. But if you really map it out, a three-minute round will not have 180 blows exchanged most of the time. A quick peek at a boxing forum shows heavyweight matches typically varying from 30-60 punches per round, with notable excursions to 100 or more. And a lot of those are probably probing jabs (Defensive Attacks), often done as Rapid Strikes, or more likely as Defensive Setup Attacks.
So really, having a mass melee over in fifteen seconds probably isn't "real." But it certainly is more fun than standing around a lot, especially when you're rolling for 20-40 Draugr or something.