This is mostly just a bit of idle musing. Last time I played +Nathan Joy's DF campaign, +Theodore Briggs's character, Thumvar, got hit with a spell (Burning Death, for what it's worth) that made him roll vs. HT every turn, or else terrible consequences would ensue.
In other areas, I have mused about the cost of HT before. In this post discussing The Last Gasp, I noted the following breakdown of things that HT influenced, and a commentary on overall pricing.
Fixed and Knowable Costs
While breaking down certain GURPS abilities into component parts is chancy, here's one way to look at it:
Fatigue Points: 3 points/level
Basic Speed: 20 points per level, requires +4 HT for each +1: 5 points/level
Action Points (from The Last Gasp): 2 per level.
These are fixed costs, but only the first two are firmly defined in GURPS Basic Set. Action Points is from my own article; we pegged it at 2/level, but that's soft.
Thus, the FP and Basic Speed components of HT cost 8 points per level. Toss in my Action Points pricing and that's 10 per level (which argues that if the pricing of HT is fine as-is, if you play with AP it should go up to minimum 12/ level.
OK, but there are other components to HT, which are harder to pin down for actual costs. Mainly, they're
The ability to make HT rolls (resisting poisons, knockdown and stunning, consciousness rolls, and death checks, checking for fatigue and other resisted conditions)
HT-based skill rolls
That first one is interesting, since there's a lot of game-relevant utility there. That being said, let's come back to it.
Skills
There 11 HT-based skills in the Basic Set. If you were to buy a Talent covering that many skills, it would cost 10 points per level.
However, and this is an important point, you buy a Talent as part of characterization, and you want and will seek to use all – or most – of the skills in it. So the list of skills you get with HT come along for the ride, and thus are probably worth half or a quarter of the base price of a Talent (plus you don't get the 'look cool doing it') factor.
On the other hand, let's suppose that the cost of the ability to buy skills with attributes is discounted by 1/2 to 3/4 because it's just more efficient to train everything having to do with fitness or coordination than do one thing at a time. So the cost of all HT skills is 3-5 points (5-7 less than above, or 7-9 less if you also strip out AP). 3 points per +1 to all HT-related skills (again, 11 of them) seems just too low. In fact, the basic 5-10 points per level you'd get for a basic Talent is still a great deal. I choose to settle on roughly 5 points/level for the "boost to HT-related skills" piece, recognizing that not all of these are useful, and +1 to a defaulted skill goes mostly from "really sucks" to "sucks slightly less."
That means that without considering the HT-based rolls to resist Stun and Knockdown, Stay Conscious, or Not Die, you're lookat at 13 points/level at the low end (no AP), or 20 points/level with the cost of Action Points and paying 10 per level for skills. If we split differences and indulge in pentaphilia, we get 15 points/level as a base cost.
Persistence of Action
There is yet another, and a very important, part of the HT attribute, which is the ability to persevere in the face of hardship. This includes HT rolls to keep running or avoid fatigue, but in most cases it will be the rolls you make to avoid getting stunned and/or knocked down in combat, to stay conscious and/or alive when wounded badly.
GURPS already gives pricing for bonuses to some of these via Advantages like Hard to Kill and Hard to
Subdue. However, first consider that there are two kinds of these rolls.
One-Time Pricing
Well, this seems fairly straightforward. This is a combination of +1 to rolls to not die (Hard to Kill at 2 points per +1) and +1 to avoid Knockdown and Stunning (High Pain Threshold has 10 points for +3 to such rolls, or about 3 points/level). Boom, an extra 5 points/level for an equivalent bonus to HT.
Non-linear Impacts
A small mathematical digression. Both the one-time and repetitive pricing seems OK, perhaps, at first. The pricing is basically right there in the Characters book, and is all I have to do is note that Hard to Subdue is 2 points per level, and that's it. Add 'em up. 20 points/level for HT at the low end of the scale, and as high as 27 points/level on the high end.
Thing is, it's not quite that simple in play. You can look at HT rolls, especially the ones you have to make every round, in the inverse way: how many rolls can you make until you fail one?
For consciousness rolls, this question is "how many rounds of actual action can you do until you're killed or eaten" in many worlds. So the non-linear nature of these rolls for HT from 10 through 16 (17 or 18 always fails, so it stops there) is key.
For death checks, you get into the "not dead until you hit auto-death at -5xHP" thing, which caps how many death checks you'll really make. But how many rolls extra do you get?
Well, that many.
So you can see the results in the HT scores of player interest are strongly non-linear. HT 11 is not that big of a deal. On the average, you get less than one extra roll before you'll fail one. So booyah, you get one extra turn to act before you get KO'd, and you'll pass one extra death check.
I actually look at the first as more important than the second. If you get KO'd, you're out of the fight and if your side doesn't win, you'll face death at your foes' whim.
Still, you can also look at it another way. You get effectively extra HP to keep fighting until auto-death sets in. Those are 2 points/level, and at 10 HP you could say that's worth about 2 points x 10 HP x number of extra rolls. This maxes out at the number of increments from -HP to -5xHP, or about 40 HP for the ST 10 person, 50 for a ST 12 warrior, etc.
I'd not do that, though, because you're talking "extra HP that only work if you stay conscious." So they're rather heavily limited.
The KO roll, though. That
is
valuable. It's how many extra seconds (turns) you can stay fighting.
But how many points is an extra turn worth? Well, it's potentially an attack and a defense per round, which would normally cost about 2 AP or 4 points. At minimum it's probably a 2-point base for the equivalent of Hard to Subdue.
Cut to the Flippin' Chase
The game value of higher HT might look like this:
Where HT 13, while costing 30 points by the Basic Set rules, is probably worth in excess of 70 points in terms of the additional oomph it gives characters.
Why does it drop down so hard at the end? You're out of the non-linear region, and you're just buying a boost to avoid penalties. Maybe that says "20 points/level" for HT 17 and higher, since that does have value.
Would I price things like this? Um, no. But an increase to a flat value of a minimum of 20 (like DX and IQ) to an upper limit of around 30 points/level for HT seems to better reflect the game utility. If you want to simplify quite a bit, Fit is +1 to all HT rolls, plus the ability to recover FP twice as fast (!!). That would put HT at about 20 points/level, if we ignore recovering 10 FP in 50 minutes instead of 100 (both are "we have downtime, poof I'm not tired anymore).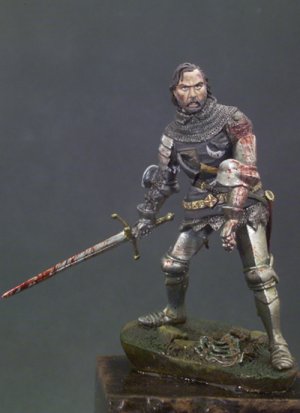 Back to Thumvar, the Dungeon Fantasy Knight. His HT 13 – not even extreme – allowed him to shake off the effects, turn by turn, of a pretty nasty spell. Characters with Supernatural Durability pay 150 points to be completely immune to shock, physical stun, and knockout. You have HPT included already. And you get to fight all the way down to -10xHP, all at once. And you can only be killed by a particular item.
So, perhaps that's worth more – maybe 200-300 points (which seems like too many). Supernatural Durability is priced equivalently to HT 25, which according to the above chart would be a lower bound of about 275 points, so maybe not that off.
Or, no matter what math you want to play, diminishing returns sets in, and you shouldn't price HT more than 20 or 25 points per level.
Parting Shot
If HT is worth 20-30 points per level, aren't DX and IQ, which give boosts to so many skills, worth even more? Possibly, possibly.
Another time, perhaps.