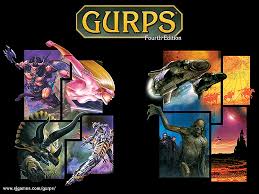 Thursday is GURPSDay, and below you can find the blog activity from the last seven days.
Over the last week, there have been about 50 GURPS-Related posts that have popped up on the radar screen, which is a nice chunk of reading material.
Some of the more recent entries are really good – stuff that would have fit well into Pyramid.
As always, if you're interested in having your blog consolidated here, navigate over to The Instructions Page and drop me a line.
—
Southern Style GURPS (Chris Bower)

—
Shooting Dice (Hans-Christian Vortisch)

—
Gaming Ballistic (Douglas Cole)

—
Let's GURPS (Pseudonym)

—
Ravens N' Pennies (Christopher R. Rice)

—
Castalia House (Jeffro Johnson)

—
The Collaborative Gamer (Joseph Linden)

—
Armin's GCA 5 Blog (Armin Sykes)

—
RPG Jutsu (Merlin Avery)

—
Northport (Denis McCarthy)

—
Further Up the Spire (Archon Shiva)

—
Worlds Beyond Earth (Derrick White)

—
Mailanka's Musings (Daniel Dover)

—
Game Geekery (Warren "Mook" Wilson)

—
Dark Paths and Wandered Roads (Jason Woollard)

—
Insidious GURPS Planning (Mr. Insidious)

—
Dungeon Fantastic (Peter Dell'Orto)