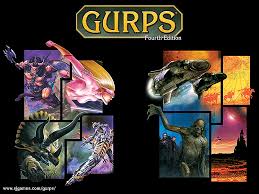 Thursday is GURPSDay, and below you can find the blog activity from the last seven days.
Over the last week, as of 450pm CST, there have been 45 GURPS-Related posts from our list of 54 blogs that have popped up on the radar screen.
Not every blog posts about GURPS every week, but some are ridiculously prolific! The list is randomized, so different bloggers will be highlighted at the top of the post each week.
As always, if you're interested in having your blog consolidated here, navigate over to The Instructions Page and drop me a line.
—
Improvised Radio Theatre – With Dice (RogerBW)

—
Northport (Denis McCarthy)

—
Save vs. Hollowing (Anton L.)

—
Game Geekery ("Warren ""Mook"" Wilson")

—
Don't Forget Your Boots (Mitch French)

—
Gentleman Gamer (Raoul)

—
Game in the Brain (Justin Aquino)

—
Let's GURPS (Pseudonym)

—
PK's Game Recaps and Tidbits (PK Levine)

—
Dr. Kromm's GURPS Livejournal ("Sean ""Dr. Kromm"" Punch")

—
Dungeon Fantastic (Peter Dell'Orto)

—
Orbital Vagaries (Christian Blouin)

—
Ravens N' Pennies (Christopher R. Rice)

—
Fragments of the Last War (Bryan Timms)

—
Cursed -75 Points (BowToChris)

—
Gaming Ballistic (Douglas Cole)

—
Mailanka's Musings (Daniel Dover)

—
Dice and Discourse (Joseph Mason)

—
Dark Paths and Wandered Roads (Jason Woollard)

—
Sharrukin's Palace (Jon F Zeigler)