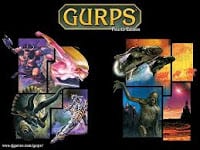 Thursday is GURPSDay. We're a week and about $90,000 into the GURPS Dungeon Fantasy Kickstarter. At this point, it would appear that it will fund sometime next week, and Kicktraq suggests a final tally of $120-150K.
Below you can find the blog activity from the last seven days.
Over the last week there have been 55 GURPS-related posts from our list of 63 blogs that have popped up on the radar screen as of 230pm CST, which is a good start. I know there's another blog out there, too – I'll add that one in later..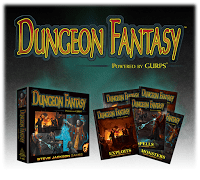 In the first week of the kickstarter, we're hitting a pace of just shy of $90 per pledge, and this has held steady. SJG has found a way to guarantee European shipping at $30 per order (or thereabouts – go read +Phil Reed's precise wording for details), and so with 15 days to go, we need perhaps 100 more backers to get where we're going. Don't make them wait – the higher the funding of this project, the more they're convinced GURPS has life in it. Also, if you're new to GURPS, the "I want it all" level of $250 now contains over $500 of product.
They've also started a "character backstory" contest on the SJG forums, and promised a set of pregenerated characters for the game.
Not every blog posts about GURPS every week, but some are ridiculously prolific! The list is randomized, so different bloggers will be highlighted at the top of the post each week.
As always, if you're interested in having your blog consolidated here, navigate over to The Instructions Page and drop me a line.
—
Southern Style GURPS (Chris Bower)

—
Gothridge Manor (Tim Shorts)

—
RogerBW's Blog (Roger Bell-West)

—
Let's GURPS (Pseudonym)

—
Dr. Kromm's GURPS Livejournal ("Sean ""Dr. Kromm"" Punch")

—
Castalia House (Varies)

—
Gaming Ballistic (Douglas Cole)

—
GURB- The Generic Universal Roleplaying Blog (The_RyujinLP)

—
Game Geekery ("Warren ""Mook"" Wilson")

—
Dungeon Fantastic (Peter Dell'Orto)

—
Don't Forget Your Boots (Mitch French)

—
Of Paper Men and Plastic Monsters (Cole Jenkins)

—
MoeLane.com (Moe Lane)

—
Cursed -75 Points (BowToChris)

—
Mailanka's Musings (Daniel Dover)

—
Insidious GURPS Planning (Mr. Insidious)

—
The Phantom's Belch (Ted Brock)

—
Northport (Denis McCarthy)

—
Fragments of the Last War (Bryan Timms)

—
The Lands of Nandeme (Charles Saeger)

—
Ravens N' Pennies (Christopher R. Rice)

—
Dice and Lives (Joel Sammallahti)