Here we are again, this Saturday, end of March, marks roughly the seventh month, sort of, since Gaming Ballistic was incorporated. While that might be the official incorporation date, it probably makes far more sense to date the birth of the company from roughly October 1, 2016, which is when I really decided that Dungeon Grappling needed to happen, and proceeded to plan and launch the Kickstarter by November.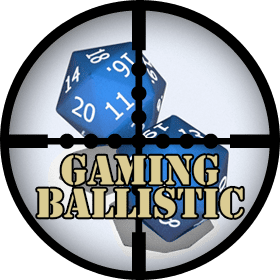 In any case, what's been going on?
Mostly trying to get back on to a regular posting schedule again. I got very, very head-down on working some of the projects I've been working, and noticed that I'd not written any real content on the blog, certainly not much of value-added nature, in weeks. Well, frack that.
My new intended posting plan is something like this:
So tomorrow I'll either review the latest Pyramid, or I just got a copy of Cirsova Magazine #5, and I can throw down some game-inspiration notes from that. Means I need something OSR/ACKS-ish for Monday . . .
Beyond that, the only real question right now is which project gets far enough along to Kickstart first. Continue reading "Gaming Ballistic – March Update" →