I love the Size and Speed/Range Table in GURPS. EABA has one too. I think both games get things right and wrong here, and since I have an idle moment, I want to say why.
What's Right?
Where do these kinds of charts succeed? While there's lots of small things, here are the big ones that occur to me:
Scale
Both charts (the SSR can be found on p. B550; "The Chart" is on p. 2.8 of EABA v2.01) cover the entire possible range of scaling and are logarithmic in nature. My personal experience is that this is nearly mandatory, since both gaming and real life happen on widely different scales.
This need not be frost giants and mortals, either. An aircraft carrier might well be the target of a light antitank weapon. A man might stomp on a bug. An industrial press might have hundreds – or thousands – of times the applied force capability of a human.
So something that accounts for scale is necessary.

Progression
GURPS chart has an easily memorized progression of values. There are six of them, and they repeat. 1, 1.5, 2, 3, 5, 7, then repeat at 10.
This progression is, without a doubt, one of the genius elements of the GURPS Size and Speed/Range table. Is all you need to know are those few numbers, plus that the penalty/bonus goes up +6 for 10x, and that 10 is -4, and 100 is -10. Mostly that means you can figure any penalty on the fly without looking at the chart, if you want.
EABA has an issue here. I'll get to that in a moment.
Logs and Ratios
The awesome thing about both of these is that they theoretically allow some great mechanical work to be done with simple addition/subtraction because of the nature of the tables. Logarithms turn  multiplication and division into addition and subtraction.
The basis of a (base-10) logarithm is it's basically the exponent that you need to raise 10 to in order to get what you want. So since 10 to the zero power is 1, the log(base10) of 1 is zero. The log of 10 is 1, 100 is 2, and the log of 50 is about 1.7.
Most usefully (at least to me), log tables allow easy determination of ratios. So if you have a ST score that measures applied force, then you can look at who has the advantage by simply comparing the scores, and the difference of the highest to the lowest gives you the ratio of the one to the other . . . or it would, but for the flaw in both charts.
What's Not As Helpful
While the tables are pretty cool by themselves, they both suffer from flaws.
Where's the Zero?
The GURPS chart, and four of the eight or nine relevant columns in EABA all set the place with zero penalty to some not-arbitrary number that's not 1.0.
Why is this a problem? GURPS sets it to 2, which is man-high, and makes shooting or swinging at a man-sized target a no-penalty sort of thing. Sensible, right?
EABA seems to set each zero-penalty/zero-bonus at an appropriate place for the game designer's purpose. Seems cool, right? I mean, you want the zero to be convenient?
Set the Zero to 1.0. Always.
I'm going to pick a nit here, and based on years of fiddling, just flat out say that if you're going to use a log table like this, you always want to have the scale start with 1 being a bonus/penalty of zero.
Why? Because the logarithm of 1 is zero. And that makes lots and lots of other things work.
Consider GURPS: If you have a ST that lets you lift 1000 lbs, and you're wrestling with someone whose ST score lets you lift 100 lbs, you're 10x stronger than they are. The current SSR value for 1,000 is 16, while 100 is 10. Subtract them and you get 6. Which is actually 2 higher than the value it shoudl be (10), because of the offset. There's an extra step in there that's not necessary (subtract two from all results when dividing).
Likewise, if you take 5 and 2 and multiply them together, you get 10. Easy math that you can do in your head, of course. But the values for this are 2 and 0, giving 2, instead of 4. Again, you have to add 2 in order to get to the "real" answer.
Not too big a deal.
EABA suffers from a different problem. It uses eight different progressions. So the offset is different for each one. You have to use the chart.
Easy scaling is a win
This one is a problem more unique to EABA. GURPS uses a progression that is 6 levels of progression for each x10 (it actually uses several progressions in various places: 1 – 2 – 5- 10 and 1 – 3 – 10 being the go-to alternatives). But it uses that progression as an approximate, and what it lacks in precision it makes up for in being easy to memorize.
EABA chose to get more precise with its progression, by expanding the scale. x1000 is +20. So if you're going to do this, you have to memorize 20 levels of the chart. It also blends units of time for "ease" of communication (seconds to to minutes), but conveniently this is mitigated by one of the steps actually being x60, so that becomes fairly natural.
Still, 20 levels per x1000 is not terribly helpful.
Fix it?
I'll confine my comments to GURPS here, in that I think it could benefit from resetting the zero to 1 yard or 1 yard per second (size and speed). For one thing, one yard is one hex. Boom, now that's a natural unit to base a scale on. It's also roughly the height of the human torso, which is the default thing to shoot or swing at in the rules anyway.
But the real reason I want to do it is so that you can just use logs for ratios and stuff. Mostly you can get away with this, since the bonus/penalty involved in a ratio doesn't require back-conversion into "real" units. If you have a strength for 1,000 lbs (16) and a strength for 100 lbs (10), the delta is 6. Move on to game-mechanical things and don't worry about subtracting 2 to get 4, so you can read the chart and get the ratio of 10.
But it is pretty handy to be able to do actual math if you need to.
Parting Shot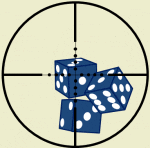 Why do I even care? I've been fiddling with two things.
The first has been
eliminating ST rolls
, and the recent discussion of Log ST in Pyramid #3/83 by none other than Sean Punch himself has me fiddling a lot with moving the basis of rolls to DX and HT, while using power or weight ratios to get bonuses and penalties to the rolls. This concept has a LOT going for it.
The other is to eliminate HP tracking from the game, by looking at penetration/injury values as a ratio of damage number to resistance value (basically damage-to-HP ratio), but not tracking the individual ticks, but rather the "Conditions," for a familiar D&D-based term.
GURPS already has this, by the way, in many respects. A mortal wound is more than half your HP in injury (2 level offset on the SSR table). Crippling thresholds are defined as ratios and can easily be expressed as offsets on the table. Death and KO thresholds are multiples of HP anyway. Again, very friendly from a log-table perspective.
So for GURPS, anyway, I think there are a bunch of artifacts that can be removed with proper consideration.
Now I just have to write it up.