Welcome to GURPSDay 2018, and the fourth year – GURPSDay started in February 2013, only a year after I started Gaming Ballistic. Sorry for the day-late publishing of this one; my timing yesterday was awful. I need to set up remote desktop capability so I can run the script from work. Also, due to some script weirdness, I expanded this to cover the [b]entire[/b] last year, or at least as much as each person's blog will buffer. If you [b]should[/b] see your blog on here, but do not, please email me at gurpsday@gmail.com and we'll get it sorted.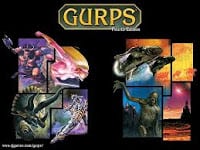 We're currently drawing content from 95 blogs. We're still picking up some feed issues with them, but once they're solved, we're that much closer to having 100 GURPS blogs. GURPS Special Ops, by Steve Jolly, was a rename of an older blog by him, while Archon Shiva started a DFRPG Tactics Blog called Ostarys' Tactics. Which for some reason isn't being pulled. Hrm. I will have Top Folks look into this; I wonder if other blogs have been posting and not being pulled.
We've got some interesting things coming in 2018. GURPSDay is often reshared and followed by some of the nice folks at Steve Jackson Games, and I made a suggestion to Kromm and Steven that has drawn some interest. One way or another, look to see the return of the monthly Blog Challenge – such as the Melee Academy feature. In particular, common challenges posed using nothing but the pre-gens from the DFRPG and the rules from the boxed set with no house rules or additions brought in. The Dungeon Fantasy RPG is targeted at new players, and so even seemingly old topics (how do I best leverage attacks from the rear hex? How do I fight a dragon? How do we fight a mob of weak creatures?) are fresh again.
We still need your help. And if you just started a GURPS blog – and I know that some of you have – email me and get on the list! With the advent of the Dungeon Fantasy RPG, Powered by GURPS, there's even more reason to write.
How? Two action items: post more, recruit more. It's really that simple. More posters is more posts, and more interest in GURPS.
Below you can find the blog activity for the last week. There's a whole lotta awesome GURPS going on. Read all the posts.
Not every blog posts about GURPS every week, but some are ridiculously prolific! The list is randomized, so different bloggers will be highlighted at the top of the post each week.
As always, if you're interested in having your blog consolidated here, navigate over to The Instructions Page and drop me a line. Take special note of the RSS Settings Fix if you're on WordPress.

—
Bat in the Attic (Rob Conley)
—
Concrete Lunch Gaming (Bob Loftin)
—
GURB- The Generic Universal Roleplaying Blog (The_RyujinLP)
—
Further Up the Spire (Archon Shiva)
—
Panhumanity's Edge (Christain Blouin)
—
Mailanka's Musings (Daniel Dover)
—
MoeLane.com (Moe Lane)
—
Insidious GURPS Planning (Mr. Insidious)
—
Fragments of the Last War (Bryan Timms)
—
Olympus RPG Group (The Olympus RPG Group)
—
Northport (Denis McCarthy)
—
Shane Plays (Shane Stacks)
—
Worlds Beyond Earth (Derrick White)
—
RogerBW's Blog (Roger Bell-West)
—
T Bone's GURPS Diner (T Bone)
—
A Literate Programmer's Blog (The Literate Programmer)
—
Frak Frel and Other F Words (Rigil Kent)
—
Apocalyptic Analysis (Jake Bernstein)
—
Daydreams of a Dragon (Dragondog)
—
World of Domibia (Canology)
—
No School Grognard (Mark Langsdorf)
—
Karl Gallagher's Journal (Karl K Gallagher)
—
Don't Forget Your Boots (Mitch French)
—
Chain Link and Concrete (M. Eversberg II)
—
Just Roll 3d6 (Colin)
—
Dice and Lives (Joel Sammallahti)
—
Dungeons on Automatic (Kyle Norton)
—
GURPS Mega Dungeon (John Morrison)
—
Illias.de My Rolling Thoughts (stPete)
—
Ostarys Tactics (Archon Shiva)
—
Game Geekery ("Warren ""Mook"" Wilson")
—
Dice and Discourse (Joseph Mason)
—
Dr. Kromm's GURPS Livejournal ("Sean ""Dr. Kromm"" Punch")
—
One Yard Hex (Paul Stefko)
—
n-Body Politics (kreios)
—
Hard Maths (CTA)
—
Shooting Dice (Hans-Christian Vortisch)
—
Testsujin no Llama (Matt Riggsby)
—
The Fossilized GURPS Blog (Fossilized Rappy)
—
Improvised Radio Theatre – With Dice (RogerBW)
—
Orbs and Balrogs (Christian Blouin)
—
Orbital Vagaries (Christian Blouin)
—
Gaming Ballistic (Douglas Cole)
—
Rindis.com (Rindis)
—
Ra's Head (Andrew)
—
The Phantom's Belch (Ted Brock)
—
Armin's GCA 5 Blog (Armin Sykes)
—
Castalia House (Varies)
—
RadBox Studio (Adam Warnock (aka salsathegeek))
—
Southern Style GURPS (Chris Bower)
—
Thor's Grumblings (Dustin Tranberg)
—
The Collaborative Gamer (Joseph Linden)
—
GURPS Special Ops (Steve Jolly)
—
Let's GURPS (Pseudonym)
—
Code by Clockwork (Jeff Demers)
—
Book and Sword (Sean Manning)
—
Curious GURPS (Tom Vallejos)
—
Path of Houserules (Sciencezam)
—
The Lands of Nandeme (Charles Saeger)
—
Libris Ludorum (Nemoricus)
—
Generic Universal Eggplant (Enraged Eggplant)
—
Methods and Madness (Eric Diaz)
—
Of Paper Men and Plastic Monsters (Cole Jenkins)
—
Dungeon Fantastic (Peter Dell'Orto)
—
PK's Game Recaps and Tidbits (PK Levine)
—
Refplace (Rory)
—
Dark Paths and Wandered Roads (Jason Woollard)
—
GURPS Overhaul (Varyon)
—
Ravens N' Pennies (Christopher R. Rice)
—
Octopus Carnival (Ubiratan Pires Alberton)
—
Jerrils Miscelania (Jerril)