Thursday is GURPSDay, a tradition I started in early February of 2013, shortly after I started Gaming Ballistic. I always did better writing to a schedule, and having a GURPS-themed post always go up on release day was fun.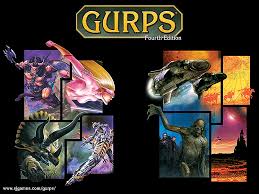 Earlier this year, my little tradition got noticed by +Phil Reed, and he was sufficiently enthusiastic that I volunteered to try and collect posts published on Thursday that had GURPS material.
Enter +Jeffro Johnson and PERL. I don't know PERL, but he does. And he rapidly took the idea and ran with it hard, writing for me a script that pulled every GURPS post form a blog. We even came up with a format that would allow summaries of each post, so long as they were embedded in the HTML and formatted correctly.
Each week, there usually wind up being on the order of 40-60 posts from just shy of 40 blogs. I have no doubt that with proper social networking, both of those numbers could easily double. We've gotten great participation, and the blog roll keeps increasing, though the pace has slowed.
Navelgazing


So, GURPSDay went more-or-less live in late January or early February. This has been, in a word, fantastic for my site. My blog started out getting about 3,300 pageviews in January, or about 100 views per day. As I kept at it, my traffic increased steadily, doubling by June, and then hitting a stability point. Each month, I'd get about 6000-8,000 page views, but if I did something particularly interesting, such as a good interview, it would spike to 9,000-10,000. It only went over 10,000 views twice, and I suspect those were particularly notable interviews.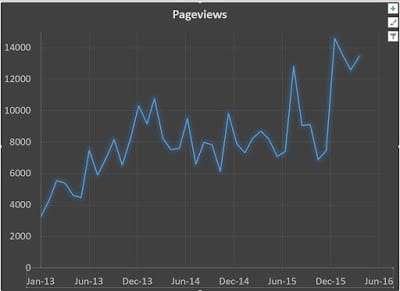 Then in June or July 2014, D&D5e was released, and I did a series of posts on the game mechanics of dice rolling, as well as making and posting a 6th level 5e character for every class. Shattered my prior records, hitting 12,000 views, or about 400 per day. When that stopped, I dropped back down to 7,000-9,000, though I did blow myself up during that period of time.
The new year saw me return to regularly scheduled posting, and playing more games. The Reloading Press has been very popular, as have my writeups of the Aeon supers campaign. But when GURPSDay started in mid-January, things shot up and stayed there. January I hit over 14,000 views . . . and my worst month since then has been as good as my record up to then.
Looking Outward


One of the neat things about the GURPS blogs is that we'd often cross-pollinate anyway. Whether it was just someone riffing off of a post, or a purposeful collaboration or coincidence (like Melee Academy and GURPS 101), we were pretty good about sharing ideas.
That only got better with GURPSDay, as "I had no idea there were so many GURPS blogs" was pretty common. So there's always something worth reading, which leads to always something worth writing about.
And I know that GURPSDay actually started a few people blogging – some of our most prolific writers are newbies, relatively, to at least the blogging scene, and it's great to see things expand.
Stop, Collaborate, and Listen



Ultimately, what makes a community is communication and shared interest. If you blog about GURPS, write up your adventures and campaigns, or tinker with rules, there's a community that contains some cool people, many of whom are among the more prolific of the GURPS author set, who are happy to engage in constructive conversation. (You will, however, get ignored if you're a twit.) There's even a GURPS writer's help group that is on a bit of hiatus, but while it was going strong generated over 100,000 words of submitted GURPS content to Pyramid magazine.
So . . . overall, the GURPSDay experiment feels like both a personal and community success story thus far. I hope it grows. Of course, that required more brains!