What Now?
Breathing is good and important. It's been a real sprint here at Gaming Ballistic since April 1. That day, SJG and Gaming Ballistic announced the conversion of Lost Hall of Tyr to the Dungeon Fantasy RPG, and the Dragon Heresy Introductory Set went live on Kickstarter.
Dragon Heresy and Hall of Judgment
A month later, I'd met the goal for an offset print run, and got busy – very busy – finishing up the PDF for Dragon Heresy. The PDF went out to backers on June 17; the printable PDF (higher resolution but flat file with no hyperlinks) went to AsiaPacific Offset on June 18. The Hall of Judgment Kickstarter launched June 19.
That one was my best Kickstarter yet. More backers than any of my prior projects by a long way, and frankly, a better "mix ratio" of print to PDF than other projects as well. Nearly 2/3 of backers wanted a physical copy of the book. My best estimates put that mix at 50%. Also: there were 1,587 backers of the box set RPG: 1/3 of that number is 529, which is coincidentally exactly the same number of backers that Hall of Judgment got. Since the typical group seems to be about 5 people including the GM, really anything more than a 20% hit rate is amazing, and Hall of Judgment did quite a bit better than that!
Fulfillment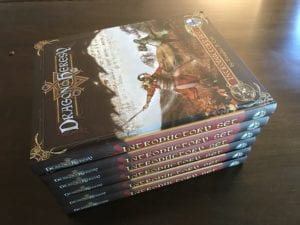 The Dragon Heresy books are "on the water," and should arrive at Studio 2 on October 8. I'll get a sub-shipment of 320 books a few days later, so by the end of that week, I hope to have all domestic books in the mail, which means that with little room to spare, the "October" promised delivery date for all rewards will be met.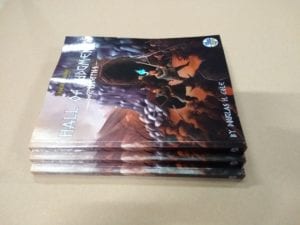 The first two cartons of Hall of Judgment (about 120 books) arrived at my house yesterday, and all of them but a few have been boxed up and mailed off already. The remaining five cartons should arrive at my house by noon today, and I will begin the process of finishing up shipment there. Folks will start receiving their books next week, then, and might extend into the 3rd week of September. The promised delivery date for rewards was August; some of our not-the-USA friends did actually get their physical copies in the trailing days of August, and I apologize to the US crowd for the month of delay. I do think, however, having finally held the book in my hands, that you will be pleased.
That does mean, though, that I've been hard at it for six months straight. It's been a wee bit of a sprint, especially with a day job. But now my kids are back in school again and my schedule should be normalizing. I hope. That means my breather, such as it is, is over. Continue reading "A Pause to Breathe: OK, that's done" →