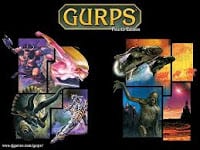 Thursday is GURPSDay. We're entering the last day of the Dungeon Fantasy Kickstarter. It fully funded during Day 16, about four days ago, and is still going strong. It looks to be pushing to around $155,000 plus another $30K from W23 sales, which gives us the 180,000 stretch goal of a month of Pyramid (one issue) for all backers who pledge $50 or more.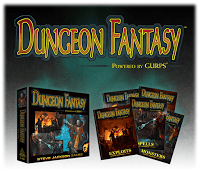 Below you can find the blog activity for the last 10-25 posts for every blog that has posted. This is a lot of posts – the GURPS blogging community has picked up rather a lot of steam recently, a phenomenon I hope that GURPSDay has helped with to a small degree.
I can only offer this exhortation: back the Kickstarter. Blog more. Create more. Refine your writing technique and participate in the community-driven submission process that is writing for SJG. They're a tough crowd, and their standards are high. But if you can write for them, you can probably write for anyone.
Even yourself.
As always, if you're interested in having your blog consolidated here, navigate over to The Instructions Page and drop me a line.
—
Save vs. Hollowing (Anton L.)
—
The Gaming Musings of a Mad GM (Ken DeLyzer)
—
Rindis.com (Rindis)
—
Ravens N' Pennies (Christopher R. Rice)
—
Cursed -75 Points (BowToChris)
—
Dice and Lives (Joel Sammallahti)
—
Code by Clockwork (Jeff Demers)
—
Set Adrift on 3D6 (Conner)
—
Shooting Dice (Hans-Christian Vortisch)
—
Chain Link and Concrete (M. Eversberg II)
—
RPG Snob (Jason Packer)
—
Orbital Vagaries (Christian Blouin)
—
PK's Game Recaps and Tidbits (PK Levine)
—
Shane Plays (Shane Stacks)
—
RPG Jutsu (Merlin Avery)
—
Don't Forget Your Boots (Mitch French)
—
Fragments of the Last War (Bryan Timms)
—
Game Geekery ("Warren ""Mook"" Wilson")
—
Southern Style GURPS (Chris Bower)
—
Yore (Martin Ralya)
—
The Collaborative Gamer (Joseph Linden)
—
MoeLane.com (Moe Lane)
—
hoploblog (V)
—
No School Grognard (Mark Langsdorf)
—
Just Roll 3d6 (Colin)
—
Game in the Brain (Justin Aquino)
—
Bat in the Attic (Rob Conley)
—
World of Lycretia (Jeromy French)
—
Lost in Technology Again (Bill Barnes)
—
One Yard Hex (Paul Stefko)
—
Further Up the Spire (Archon Shiva)
—
Moral GURPitude (Michael Viviano)
—
Book and Sword (Sean Manning)
—
Dark Paths and Wandered Roads (Jason Woollard)
—
The Lands of Nandeme (Charles Saeger)
—
Gaming Ballistic (Douglas Cole)
—
5 Stone Games (5 Stone Games)
—
Dice and Discourse (Joseph Mason)
—
Mailanka's Musings (Daniel Dover)
—
Sharrukin's Palace (Jon F Zeigler)
—
T Bone's GURPS Diner (T Bone)
—
Castalia House (Varies)
—
Dr. Kromm's GURPS Livejournal ("Sean ""Dr. Kromm"" Punch")
—
Jeffro's Space Gaming Blog (Jeffro Johnson)
—
Improvised Radio Theatre – With Dice (RogerBW)
—
Panhumanity's Edge (Christain Blouin)
—
GURB- The Generic Universal Roleplaying Blog (The_RyujinLP)
—
Cadiz Redemption (Michael Wolf)
—
Gentleman Gamer (Raoul)
—
Hard Maths (CTA)
—
Let's GURPS (Pseudonym)
—
Dungeon Fantastic (Peter Dell'Orto)
—
Gothridge Manor (Tim Shorts)
—
Northport (Denis McCarthy)
—
Of Paper Men and Plastic Monsters (Cole Jenkins)
—
Celti's Chatter (Patrick Burroughs)
—
Into the Storydark (Morgrim)
—
Worlds Beyond Earth (Derrick White)
—
The Red Mouser (Gotha)
—
Insidious GURPS Planning (Mr. Insidious)
—
The Phantom's Belch (Ted Brock)
—
Armin's GCA 5 Blog (Armin Sykes)
—
RogerBW's Blog (Roger Bell-West)
—
A Literate Programmer's Blog (The Literate Programmer)