GURPSDay is currently pulling from 101 blogs on the roster. We seem to have skipped right past spring and gone right into summer. And I'm still mostly head-down in my own Dragon Heresy stuff. In other news, I now have the full go-ahead to start working For Reals on Hall of Judgment, the first conversion of 3rd party material for the DFRPG. I'm excited about that, and there will be more frequent updates as a few other things settle.
One last chance to catch the Geek Gab Game Night (During the Day) with Kromm and Cole, listen to it here.
Welcome to GURPSDay 2018, and the fourth year – GURPSDay started in February 2013, only a year after I started Gaming Ballistic.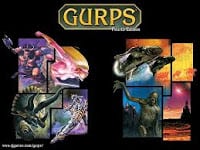 We still need your help. And if you just started a GURPS blog – and I know that some of you have – email me and get on the list! With the advent of the Dungeon Fantasy RPG, Powered by GURPS, there's even more reason to write.
How? Two action items: post more, recruit more. It's really that simple. More posters is more posts, and more interest in GURPS.
Below you can find the blog activity for the last week. There's a whole lotta awesome GURPS going on. Read all the posts.
Not every blog posts about GURPS every week, but some are ridiculously prolific! The list is randomized, so different bloggers will be highlighted at the top of the post each week.
As always, if you're interested in having your blog consolidated here, navigate over to The Instructions Page and drop me a line. Take special note of the RSS Settings Fix if you're on WordPress.
—
Daydreams of a Dragon (Dragondog)
—
The Gaming Musings of a Mad GM (Ken DeLyzer)
—
Dungeon Fantastic (Peter Dell'Orto)
—
Dungeons on Automatic (Kyle Norton)
—
3d6 and Go! (Nathanael Farley)
—
Mailanka's Musings (Daniel Dover)
—
Let's GURPS (Pseudonym)
—
DF Whiterock (dripton)
—
n-Body Politics (kreios)
—
Concrete Lunch Gaming (Bob Loftin)
—
Dr. Kromm's GURPS Livejournal ("Sean ""Dr. Kromm"" Punch")
—
Ravens N' Pennies (Christopher R. Rice)
—
Generic Universal Eggplant (Enraged Eggplant)
—
Gaming Ballistic (Douglas Cole)
—
Frak Frel and Other F Words (Rigil Kent)
—
Chain Link and Concrete (M. Eversberg II)