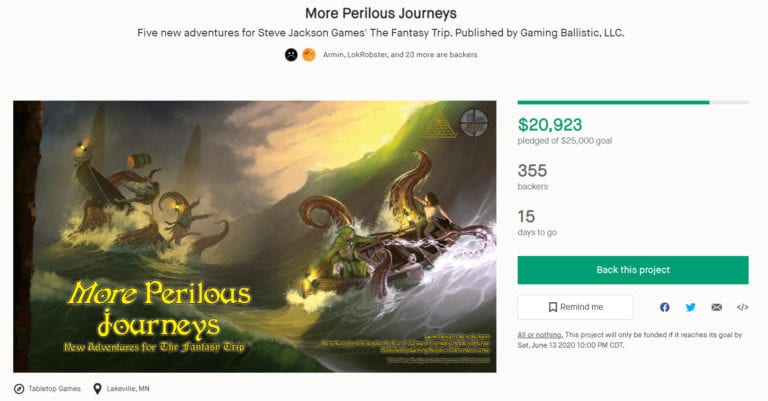 We are ten days in to the More Perilous Journeys crowdfunding campaign on Kickstarter. We're over 350 backers, who have collectively pledged just under $21,000 of the $25,000 needed to fund. With 15 days left to go, the chances of us funding are strong.
Even so . . . funding sooner is better than funding later, for two reasons. One, a funded project draws even more backers, which is good for everyone. Second, as soon as the project funds, I start commissioning art and finalizing layout and editing. Basically lopping time off the back end of the schedule, targeting early delivery.
I've already started with some of the art: Ksenia Kozhevnikova, a long-time collaborator on Gaming Ballistic projects, is working on the cover for the 40-page solo/programmed adventure Dragon Hunt! You can see her Work-in-Progress image below. I loved this work so much I've asked her to do the other four covers as well.
The good news is that while we have 355 backers so far, we have over 400 folks currently "following" the campaign who have not yet pledged. Perhaps you're one of them. 
If so, I would ask that you consider pledging sooner rather than later, if you can. COVID has messed up everyone's plans and finances this year, of course, No getting around it. But jumping in now really helps the progress of the project, and once we hit that milestone, I can start engaging with the art team to move things along even faster.
Fifteen days to go!