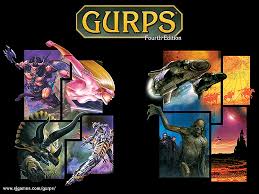 Thursday is GURPSDay, and we're back into the swing of things
We have a few new blogs on the rolls, and since May is GURPSDay recruiting month, I'm hoping to more than double the number of blogs we pull from over the next 6 weeks (faster would be better!). I've already received two new blogs, though only one is reflected below because I need a few more details from the second blog's author. But . . . if you blog about GURPS with any regularity, adding your blog to the script is easy, free, and can only help your traffic.
As always, if you're interested in having your blog consolidated here, navigate over to The Instructions Page and drop me a line.
—
Chain Link and Concrete (M. Eversberg II)

—
One Yard Hex (Paul Stefko)

—
Gaming Ballistic (Douglas Cole)

—
—
Set Adrift on 3D6 (Conner)

—
Let's GURPS (Pseudonym)

—
Lost in Technology Again (Bill Barnes)

—
Dungeon Fantastic (Peter Dell'Orto)

—
Game in the Brain (Justin Aquino)

—
Game Geekery ("Warren ""Mook"" Wilson")

—
Shooting Dice (Hans-Christian Vortisch)

—
Southern Style GURPS (Chris Bower)

—
Mailanka's Musings (Daniel Dover)

—
Just Roll 3d6 (Colin)

—
Dark Paths and Wandered Roads (Jason Woollard)

—
Ravens N' Pennies (Christopher R. Rice)

—
Cadiz Redemption (Michael Wolf)