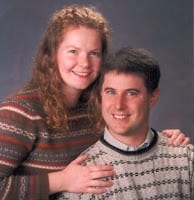 Thursday is GURPSDay, and as of today, GURPSDay is about six months old. Oh, and it's also my 15-year anniversary. That picture there to the right is probably from 2000 or 2001, when we got engaged. A long road and two children later, we're still here, and I'm gaming more than ever, so something must have worked.
And something else worked too, because thanks to the mad programming skills and debugging savvy of the proprietor of RPG Jutsu, we finally got TBone's GURPS Diner on the rolls. Turns out the site was rejecting the wget request, and Merlin did something to make our request for that data look nicer. I think the command was something like wget -whiskey -filetmignon.
But we got 'em all, and some new bloggers are on the list, including Martin Ralya and his Yore blog, as well as a feed to Shane Plays – he does podcasts. To celebrate, I'm giving you the last 25 posts for all the blogs on the list. So buckle up, because we've got 50 blogs now.
As always, if you're interested in having your blog consolidated here, navigate over to The Instructions Page and drop me a line.
—
RogerBW's Blog (Roger Bell-West)

—
RPG Jutsu (Merlin Avery)

—
Gaming Ballistic (Douglas Cole)

—
The Collaborative Gamer (Joseph Linden)

—
Code by Clockwork (Jeff Demers)

—
Shane Plays (Shane Stacks)

—
Don't Forget Your Boots (Mitch French)

—
Northport (Denis McCarthy)

—
Improvised Radio Theatre – With Dice (RogerBW)

—
Fragments of the Last War (Bryan Timms)

—
Dark Paths and Wandered Roads (Jason Woollard)

—
Save vs. Hollowing (Anton L.)

—
Cadiz Redemption (Michael Wolf)

—
Celti's Chatter (Patrick Burroughs)

—
The Lands of Nandeme (Charles Saeger)

—
Let's GURPS (Pseudonym)

—
Dice and Discourse (Joseph Mason)

—
Set Adrift on 3D6 (Conner)

—
Armin's GCA 5 Blog (Armin Sykes)

—
Hard Maths (CTA)

—
Game in the Brain (Justin Aquino)

—
Chain Link and Concrete (M. Eversberg II)

—
The Red Mouser (Gotha)

—
Mailanka's Musings (Daniel Dover)

—
Gothridge Manor (Tim Shorts)

—
Sharrukin's Palace (Jon F Zeigler)

—
Cursed -75 Points (BowToChris)

—
Into the Storydark (Morgrim)

—
Game Geekery ("Warren ""Mook"" Wilson")

—
Jeffro's Space Gaming Blog (Jeffro Johnson)

—
Lost in Technology Again (Bill Barnes)

—
Southern Style GURPS (Chris Bower)

—
Just Roll 3d6 (Colin)

—
One Yard Hex (Paul Stefko)

—
No School Grognard (Mark Langsdorf)

—
Further Up the Spire (Archon Shiva)

—
5 Stone Games (5 Stone Games)

—
Insidious GURPS Planning (Mr. Insidious)

—
T Bone's GURPS Diner (T Bone)

—
Ravens N' Pennies (Christopher R. Rice)

—
Gentleman Gamer (Raoul)

—
Shooting Dice (Hans-Christian Vortisch)

—
Yore (Martin Ralya)

—
Dungeon Fantastic (Peter Dell'Orto)

—
Orbital Vagaries (Christian Blouin)

—
Rindis.com (Rindis)