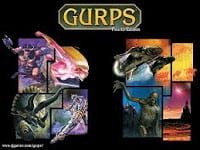 Thursday is GURPSDay, and below you can find the blog activity from the last seven days.
Improvements since last time?
MOAR PLAYERS! We've increased the number of blogs being polled by about 50%
Only a week at a time – As was originally envisioned, GURPSDay will aggregate all the GURPS-tagged posts from the prior week.
Working on summaries – We're trying to include a short summary of each post that the author provides. There are some details of the formatting we're working out, so they don't all have them.
Random order – to be fair to everyone, we're randomizing the blog-roll order each time. So scroll through the entire list and see what people are writing about!
Finally – the feed script is looking for the tag/label/category GURPS. If you occasionally blog about GURPS, send me an email at gurpsday@gmail.com and I can ensure that when you DO write, it gets picked up.
With that, here's this week's content! This post will be updated around midnight tonight, to try and catch any last-minute updates or additions!

The Collaborative Gamer (Joseph Linden)

—
Further Up the Spire (Archon Shiva)

—
Let's GURPS (Pseudonym)

—
Code by Clockwork (Jeff Demers)

—
No School Grognard (Mark Langsdorf)

—
Southern Style GURPS (Chris Bower)

—
Dungeon Fantastic (Peter Dell'Orto)

—
RogerBW's Blog (Roger Bell-West)

—
Shooting Dice (Hans-Christian Vortisch)

—
Gaming Ballistic (Douglas Cole)

—
Ravens N' Pennies (Christopher R. Rice)

—
5 Stone Games (5 Stone Games)

—
One Yard Hex (Paul Stefko)

—
Don't Forget Your Boots (Mitch French)

—
Insidious GURPS Planning (Mr. Insidious)

—
Dark Paths and Wandered Roads (Jason Woollard)

—
Game Geekery (Warren "Mook" Wilson)

—
RPG Jutsu (Merlin Avery)

—
Mailanka's Musings (Daniel Dover)

—
Celti's Chatter (Patrick Burroughs)