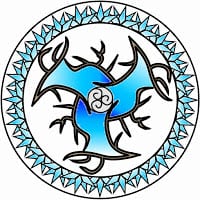 I am looking for some help with finding appropriate level advancements
for four "new" schools of magic for Wizards.
The four schools each combine two of the existing traditions,
which themselves have been associated with a particular futhark rune as part of
the setting.
The School of Doors includes the rune-magic of ansuz (divination)
and jera (necromancy, which will also include most of the currently
evocation-based healing spells).
The School of Essence includes the rune-magic of ehwaz (conjuration)
and gebo(transmutation).
The School of Might encompasses the rune-magic of thurisaz
(evocation) and algiz (abjuration).
The School of Mischief includes the rune-magic of dagaz
(illusion) and mannaz (enchantment).
What I'm looking for would be appropriately encompassing
boosts for each school for 2nd, 6th, 10th, and
14th level.
Thematically, I'm going for the following:
The 2nd-level ability should involve finesse or
control over your runes. The evocation example is being able to selectively
exempt folks from damage spells, while a conjuration example might be being
able to take a normally-symmetrical area-effect spell and make it any shape.
The 6th-level ability should reflect a deeper
understanding of the magic at your command. Divination might allow an Arcana
roll in order to gain awareness of an area of immunity or resistance for a foe.
The 10th-level ability I'd like to have a "power"
theme, such that (for example) damage spells might either get max damage or be
rolled twice, take the better one. Or add your Spell Ability Modifier to damage
spells. Both are appropriate.
Finally, the 14th-level ability should feel like
you've mastered the magics so well that you can either resist or overcome
similar magic. So you might be able to punch through a magic shield better, or
overcome a foe's resistance to fire with your own fire magic because of your
knowledge and skill with the runes.
The existing 5e magic classes each have a very distinct feel
to them, so finding a good level ability that embraces (for example) both conjuration
and transmutation, of the School of Essence, has proved to be thematically
difficult for me – which is why I'm looking for help from this resource!
I am certainly willing to have cases such as: "Upon reaching
2nd level, students of the School of Might must choose from the following
two options. Thurisaz (Evocation): you may exempt a number of allies up to your
INT bonus from your area effect spells. Algiz (Abjuration): Spells that are
normally cast with an action can be cast as a bonus action; spells that can be
cast with a bonus action can instead be cast as a reaction, and spells that are
currently cast as a reaction still enable a different
reaction, so long as that reaction isn't also a spell or magical effect."
In short, if we're desperate, "choose between the very
different A and B" is a good way to sever the Gordian knot here.
Thanks in advance for any help or ideas. Particularly clever
suggestions will get you playtest credit when Dragon Heresy is released – that's
a free copy of the black-and-white PDF right away, possibly more depending on
how well crowdfunding goes.