As reviews happen regarding my products, I have tried to keep up, and post links Thus far, Dungeon Grappling has been very well received critically. This might be because those that bother to review it are already part of its target audience – confirmation bias. The other side, that everyone knows grappling sucks, grappling rules suck harder, so why bother, is confirmation bias of a different sort.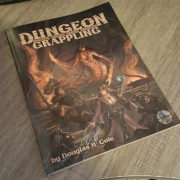 I will still maintain my contention that grappling needs to be part of any game that features combat, though much like I mention in my Violent Resolution column To the Last, I Grapple with Thee, those rules need not be custom. Night's Black Agents has its combat rules at such a level of granularity that it would be odd to treat grappling any differently than melee, and that logic is stated right in the book, explicitly. In fact, the less the grappling rules deviate from the regular combat rules, the better they are as an option that can be integrated easily with the normal flow at the table.
Shane was gracious enough to invite me on his program – my first "big" podcast on Dungeon Grappling, undertaken when the Kickstarter was still going, and when I wasn't used to podcasts, and also before I got comfortable just getting out there with my message: grappling is awesome in real life, deserves to be awesome in games, and adopting a rules set that makes it that way will increase the potential energy of fun available for games.
In addition to having me on Shane Plays, he also independently reviewed the play of the game. And by that, I mean he actually played out some combats using the grappling rules and reported on how it worked for the game. This is great, not just because of the investment, but also because theorycraft is great, but some rules that you'd think are cumbersome by reading them just aren't, and some that seem great on paper just suck. You can't always tell until the dice hit the table. (Of course, sometimes you can.)
So to the end first: I think is review is both favorable and accurate. But I also think it presents a take on things that invite comment, so I'm going to indulge in a bit of quote-response.
First, head on over to Shane Plays and read the full review. I'll wait, but I'm also going to quote selectively, so there may be missing context, and there will be definitely be missing text. His words are in quote-boxes, and mine follow.
Continue reading "Shane Plays Review of Dungeon Grappling – Comments" →