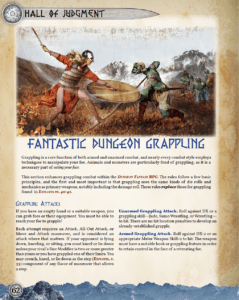 I got a sometimes-rare opportunity last night – I got to use the rules I've written in the core of their design intent. In this case, it was the simplified and upgraded rules for grappling that appear in my recent Hall of Judgment book: Fantastic Dungeon Grappling.
These took the method of GURPS Martial Arts: Technical Grappling, and seasoned them with lessons learned from DnD5e and Dragon Heresy. Unlike TG, which take 50 pages to do what they set out to do, Fantastic Dungeon Grappling (FDG) does it in just shy of four pages of text. That includes art.
Design Intent
Fantastic Dungeon Grappling is designed to be three things, and where that intent is the same as the original Technical Grappling, to improve them over the original.
It's designed to be more easily understood and better organized
It's designed to be fast and loose and somewhat abstract at the table
It's designed to enable effective grappling in cinematic play, because the Dungeon Fantasy RPG is a cinematic, "this goes to 11" game and genre
I'm not going to belabor the point: mission accomplished here, both for the player and GM. Continue reading "Fantastic Dungeon Grappling: A self-review" →