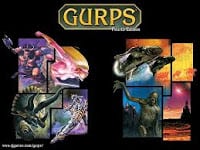 Thursday is GURPSDay, and have we got a pre-tryptophan set of posts for you today.
Below you can find the blog activity from the last seven days.
Over the last week as of just after midnight there have been 55 GURPS-related posts from our list of 69 blogs that have popped up on the radar screen. We also have two new blogs – Path of Houserules and Methods and Madness. Welcome!
Not every blog posts about GURPS every week, but some are ridiculously prolific! The list is randomized, so different bloggers will be highlighted at the top of the post each week.
As always, if you're interested in having your blog consolidated here, navigate over to The Instructions Page and drop me a line.
—
Northport (Denis McCarthy)
—
Further Up the Spire (Archon Shiva)
—
Dungeon Fantastic (Peter Dell'Orto)
—
A Literate Programmer's Blog (The Literate Programmer)
—
RogerBW's Blog (Roger Bell-West)
—
Gaming Ballistic (Douglas Cole)
—
No School Grognard (Mark Langsdorf)
—
MoeLane.com (Moe Lane)
—
Of Paper Men and Plastic Monsters (Cole Jenkins)
—
Let's GURPS (Pseudonym)
—
Shane Plays (Shane Stacks)
—
Dark Paths and Wandered Roads (Jason Woollard)
—
Mailanka's Musings (Daniel Dover)
—
Bat in the Attic (Rob Conley)
—
Game Geekery ("Warren ""Mook"" Wilson")
—
The Collaborative Gamer (Joseph Linden)
—
The Lands of Nandeme (Charles Saeger)
—
RPG Jutsu (Merlin Avery)
—
Hard Maths (CTA)
—
Fragments of the Last War (Bryan Timms)
—
Dr. Kromm's GURPS Livejournal ("Sean ""Dr. Kromm"" Punch")
—
Path of Houserules (Sciencezam)
—
The Phantom's Belch (Ted Brock)
—
Generic Universal Eggplant (Enraged Eggplant)
—
Rindis.com (Rindis)