Thursday is GURPSDay, and today is a sad day, in that it marked the final issue of this volume of Pyramid magazine. Issue #3/122 was titled, with an appropriate nerdy call-back, "All Good Things," and while true, it is regrettable all the same. I got my start writing professionally with Pyramid, way back when, with two articles: a geeky one on gun design (still available for free), and a quickie rule on Camping Out in a first person shooter for Frag.
Since that time in 2002, I went on to publish just over a dozen times, and that set me up to eventually start my own blog (in 2012) and game company (in 2016). So it is with a sigh of regret that what was a reliable and quirky support engine for GURPS turns off the lights. I still can't help but flash back to J. Michael Strazinski turning off the lights for Bablylon 5 in "Sleeping in Light."
Perhaps, Phoenix-like, something will emerge as embers, in the future.
Even so: it is GURPSDay, so read 'em all, check 'em out, and if you spot a GURPS blog in the wild, ping them and let them know they too can be on the list, so long as they, as Emmet would say, "follow the instructions."
In personal Gaming Ballistic News: Two items.
If you liked Hall of Judgment, and either also play or have friends that play Fifth Edition, I have launched the Lost Hall of Tyr (2nd Edition) Kickstarter. This ports Hall of Judgment over to my 5e-derived Dragon Heresy RPG, and upgrades the maps. That part funded on Day 2, and those maps will be inserted into HoJ as well. But I'm trying to get to first the $3,500 level (print quality equal to HoJ), and then the $6,000 level that gets an offset print run (softcover, lay-flat binding, even better paper than HoJ). If you can, pledge. If you can't, reshare. Show your D&D-playing friends, your FLGS, etc. The more I can get product out there, the better stuff I can do for the Dungeon Fantasy RPG, as rising sales lift all boats.
All of my RPG products are on sale until January 2. Whether as a gift, or for yourself, check 'em out.
GURPSDay is in its fifth year – GURPSDay started in February 2013,  a year after I started Gaming Ballistic. Things have slowed down a bit, and I'll be considering how to revitalize this weekly activity. I'd like to see an average of 100 posts here per week – one per blog, ish – so we'll see what we can do to get creative juiced flowing.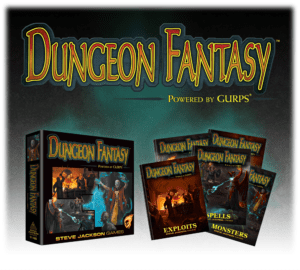 If you just started a GURPS blog – and I know that some of you have – email me and get on the list! With the advent of the Dungeon Fantasy RPG, Powered by GURPS, there's even more reason to write.
How? Two action items: post more, recruit more. It's really that simple. More posters is more posts, and more interest in GURPS.
Below you can find the blog activity for the last week. There's a whole lotta awesome GURPS going on. Read all the posts.
Not every blog posts about GURPS every week, but some are ridiculously prolific! The list is randomized, so different bloggers will be highlighted at the top of the post each week.
As always, if you're interested in having your blog consolidated here, navigate over to The Instructions Page and drop me a line. Take special note of the RSS Settings Fix if you're on WordPress.
—
Above the Flatline (Timothy Ponce)
—
Noh RPG Group (binn05)
—
Generic Universal Eggplant (Enraged Eggplant)
—
Testsujin no Llama (Matt Riggsby)
—
Mailanka's Musings (Daniel Dover)
—
Gaming Ballistic (Douglas Cole)
—
Northport (Denis McCarthy)
—
Octopus Carnival (Ubiratan Pires Alberton)
—
Ravens N' Pennies (Christopher R. Rice)
—
RogerBW's Blog (Roger Bell-West)
—
Dungeon Fantastic (Peter Dell'Orto)
—
The Gaming Musings of a Mad GM (Ken DeLyzer)
—
Dark Paths and Wandered Roads (Jason Woollard)
—
Dr. Kromm's GURPS Livejournal ("Sean ""Dr. Kromm"" Punch")
—
DF Whiterock (dripton)
—
Refplace (Rory)