In my pondering of heretical D&D concepts from the other day, one of the thoughts that I had was:
Wow, rolling vs. a "Defense Target" of 10+DEX Modifier is going to make even very experienced fighters get hit an awful lot. On the other hand, armor subtracts from damage. How does that balance out?
Guess it's time to break out Excel. First thing that leaped out at me was that the armor was wonky.
The Armor Progressions Don't Line Up
I'm not going to show my work here, but the armor progressions for DR don't work as I wrote them. The short version is that the AC progression sets the value of armor a certain way, and that means that each successive armor that gets a bonus should have some level of improved protection over the next one.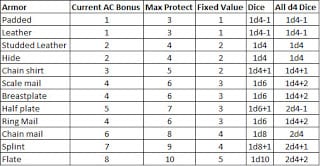 The progression I have, while elegant, creates artifacts that don't increment well with the AC table.
Consider the table again. 1d4+1 is supposed to be AC 5 based on the maximum roll. That's all well and good, but when I simulated the dice rolls 250,000 times, it was clear that I made the wrong call here. You need to treat average damage resistance, not the maximum. 1d4+1 averages 3.5 Damage Resistance. So does 1d6. But 1d6 is supposed to be the better armor. So phooey, that doesn't work.
Now, if I instead treat the current AC bonus as, say, a half-point less damage than what the dice should roll, that gives padded armor an expected resistance of 1.5 points . . . or 1d4-1. Plate, with an expected resistance of a whopping 8.5 points, might be 1d12+2. Let's keep only 1d rolling no matter the die size, and look at options for appropriate averages that work with the Armor Class scale.
In order to get to plate, we need 1d12+2. That's a lot of damage. It means a great axe or greatsword wielded by a strong person will still wind up getting "bounced" frequently. Plus (and again, not showing my work), some of the armor values mean that you're going to need to hit several to dozens of times more frequently in order to get the same HP of damage through. That will make fights last a really, really long time.

So even before we start, let's give padded (AC 11, or bonus of +1) an expected protection of 0.5 instead of 1.5. If we disallow any bonus more than +1 or penalty more than -2 (and prefer -1 to +1), we get the possibilities for armor dice to the right.
That shows we have a lot of choices, which is nice. I've color-coded the light/medium/heavy proficiencies to see if there's something logical we can eke out of it. Turns out there is.
We can restrict the light armors to rolling d4, and the medums to d6. Heavy armor gets d8 through d12, with d12 reserved for the suit of plate armor, because it's more awesome that way. Choosing it that way, and re-ordering the table by proficiency then AC (like it is in the PHB) we get a fairly satisfying table:

The only potential problem children are the -2s for Padded, Leather, and Hide, which for the first two means you have a 50% chance that your armor provides no protection whatsoever, while Hide is a 33% chance. That actually helps Hide armor, because on the straight-stat level, Hide kinda sucks. Sure, it's only 10gp instead of the 45 for studded leather, but it's basically the same weight, AC, and Hide hits you with a maximum bonus of +2 to DEX.
Parting Shot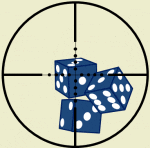 This table is more consistent with the Armor Class values given in the PHB, so you won't get strange results like I did when I calculated armor values based on the maximum protection and allowed 2d4 as the base roll. That had cases where the superior armor in-game was no longer better protection, and while I suppose that could be considered a design feature, keeping the same relative protection values for the armors listed seemed like it would be worth doing. Alternately, there's no good reason to change it, and it's easy to preserver.
I like how it wound up. Light armors are d4, medium are d6, and heavy armor is "higher than d6," with the very inexpensive ring mail (less expensive than studded leather!) having a chance of zero protection. Better buy smaller rings.