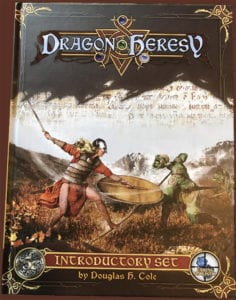 I got to play Dragon Heresy in a game run by a young lady my own system on Friday. She'd either never or rarely GM'd before. She decided to run in my book, as her dad was a supporter of both the original Lost Hall as well as Dragon Heresy. My take-aways?
The Good
The world is compelling and immersive. She grabbed on to the details and hooks provided by the map of Torengar every bit as much as I'd hoped.
Northwatch really is a compelling spot on that map, and I'm glad my upcoming release will detail the heck out of it
The grappling system, also available as a stand-alone in Dungeon Grappling, really is that good. Everyone got it, everyone used it, no complaints. Seamless.
It was amenable to fast play in a two hour session by a new GM. So very accessible.
The final confrontation was not combat; she ran a nifty scenario where we had to play against Loki himself. I showed her the flyting rules after the fact, and she really liked them.
To be Improved
The real area that stuck out as a stumbling point was a stumbling point on remembering that a swift attack (like an arrow from a bow) is quite nasty: it only has to meet the lower Threat DC unless the target has a shield.
It didn't come up much, but the decision to employ a Frantic Defense to avoid taking wounds if a target is attacked and its Hit DC is exceeded happens before armor is subtracted.
The ranged combat tweaks in general are more extensive than melee.
There's an obvious fix for this: a short flowchart. Ideally something that fits on a 3×5 or playing card. Once you get the system, it's very smooth. But a quick reference for ranged and melee combat that would fit on the back of a playing card is now on my radar.
All in all, she designed and executed a two-hour scenario that finished in two hours, which is amazing for a new GM, so well done to her on that.
As for my part, I kept my promise. I answered questions where prompted, she ran the game, and I shut up and played my character.
Good game.