Thursday is GURPSDay, and I'm on time this week! I'm still hard at work writing The Citadel at Nordvorn, a mini-setting with far too much going on for its my own good, but it's at 39,000 words so far, and I'm nearly done putting (too many) details on the city, towns, and villages in place. I expect that when all is said and done, much of that detail will be edited down to a very few summary lines and associated "this is how you use this as a plot hook" notes for the GM. But for now, it's kinda cool to see the area take shape.
In personal Gaming Ballistic News:
The Lost Hall of Tyr Backerkit phase closes tomorrow. Finishing touches and fulfillment of that will take up much of my time over the next week or so
After that, Citadel is my #1 priority, and I'm hoping to launch crowdfunding for that in February, but it will go when it's ready and not before.
SJG and Gaming Ballistic have reached a happy place on an agreement for GB to produce up to 10 short adventures for The Fantasy Trip.
I'm continuing to refine and detail "Fantastic Dungeon Grappling," another item I have permission to produce. This one will be 8 pages and will not crowd-fund, because I don't need it.
That means, for me in 2019, I will likely produce:
Three full length (64-128 page) Nordlond adventures/mini-settings for the Dungeon Fantasy RPG
One short Dungeon Fantasy item for those that want refined, short grappling rules but don't want to bother with Technical Grappling, also for DF/the Dungeon Fantasy RPG
Lost Hall of Tyr 2nd edition
Anywhere between 4 (minimum) and 10 (maybe in PDF format with print coming after) TFT adventures, depending on how things shake out
There is also more in development. Even without it, we're looking at 9-15 releases this year.
GURPSDay is in its fifth year – GURPSDay started in February 2013,  a year after I started Gaming Ballistic. Things have slowed down a bit, and I'll be considering how to revitalize this weekly activity. I'd like to see an average of 100 posts here per week – one per blog, ish – so we'll see what we can do to get creative juiced flowing.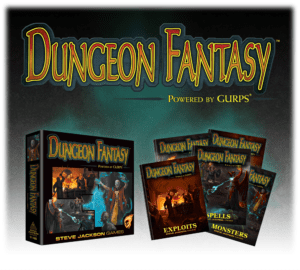 If you just started a GURPS blog – and I know that some of you have – email me and get on the list! With the advent of the Dungeon Fantasy RPG, Powered by GURPS, there's even more reason to write.
How? Two action items: post more, recruit more. It's really that simple. More posters is more posts, and more interest in GURPS.
Below you can find the blog activity for the last week. There's a whole lotta awesome GURPS going on. Read all the posts.
Not every blog posts about GURPS every week, but some are ridiculously prolific! The list is randomized, so different bloggers will be highlighted at the top of the post each week.
As always, if you're interested in having your blog consolidated here, navigate over to The Instructions Page and drop me a line. Take special note of the RSS Settings Fix if you're on WordPress.
—
Above the Flatline (Timothy Ponce)
—
Refplace (Rory)
—
Dr. Kromm's GURPS Livejournal ("Sean ""Dr. Kromm"" Punch")
—
Frak Frel and Other F Words (Rigil Kent)
Game Prep: ConsOps 01b and Scenes 2/3 (1/22/19) – Continued planning for forthcoming GURPS: Action game. Multiple character stats (Egyptian Unit 777 personnel; Egyptian NSA undercover operative; Cleaner opponent; Wire Rat opponent; Face Man opponent) present. References to High Tech, of course.
Game Prep: Desert Patrol Vehicle (1/18/19) – Vehicle stats for the Chenowth Scorpion Desert Patrol Vehicle (DPV) / Fast Attack Vehicle (FAV) used by special forces. Clearly, stats definitely abused.
—
Mailanka's Musings (Daniel Dover)
—
Gaming Ballistic (Douglas Cole)
—
Game Geekery ("Warren ""Mook"" Wilson")
Charlie, the Mystery DM (1/24/19) – Today, I finally get to share one of my favorite gaming memories, the tale of the mystery DM named Charlie. Enjoy the tale!
—
Ravens N' Pennies (Christopher R. Rice)
—
Northport (Denis McCarthy)
—
Noh RPG Group (binn05)
—
DF Whiterock (dripton)
—
Dungeon Fantastic (Peter Dell'Orto)