Thursday is GURPSDay, Valentine's Day, and a great day for the Dungeon Fantasy RPG.
Dungeon Fantasy Monsters 2 was put on the "watch this space" calendar. SJG doesn't do teasers – they're either ready to rock, or they keep quiet. So look for this one.
Also, The Citadel at Nordvorn will go live on Kickstarter on Tuesday, Feb 19. Return to Nordlond about 250 miles east of Isfjall as the raven flies . . . and check out the Kickstarter preview.
In personal Gaming Ballistic News:
The Lost Hall of Tyr proofs are on the way; I should get one from the US printer today even!
The graphic design of Citadel got a major overhaul, and the Kickstarter is ready to go; it's even approved by KS launch control.
I posted a hoped-for publishing schedule for me in 2019.
I received word from my authors on TFT projects that the first two (one from each) are over 75% completed for writing.
I'll be headed down to FNORDCon April 6-7, and running a table. Lots of Nordlond, maybe a preview of Citadel even, and several surprises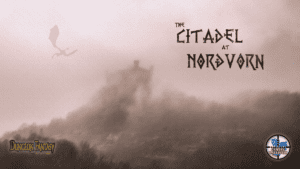 GURPSDay is starting its sixth – GURPSDay started in February 2013,  a year after I started Gaming Ballistic. Things have slowed down a bit, and I'll be considering how to revitalize this weekly activity. I'd like to see an average of 100 posts here per week – one per blog, ish – so we'll see what we can do to get creative juiced flowing.
If you just started a GURPS blog – and I know that some of you have – email me and get on the list! With the advent of the Dungeon Fantasy RPG, Powered by GURPS, there's even more reason to write.
How? Two action items: post more, recruit more. It's really that simple. More posters is more posts, and more interest in GURPS.
Below you can find the blog activity for the last week. There's a whole lotta awesome GURPS going on. Read all the posts.
Not every blog posts about GURPS every week, but some are ridiculously prolific! The list is randomized, so different bloggers will be highlighted at the top of the post each week.
As always, if you're interested in having your blog consolidated here, navigate over to The Instructions Page and drop me a line. Take special note of the RSS Settings Fix if you're on WordPress.

—
Gaming Ballistic (Douglas Cole)
—
The Collaborative Gamer (Joseph Linden)
—
Dungeon Fantastic (Peter Dell'Orto)
—
Generic Universal Eggplant (Enraged Eggplant)
—
Above the Flatline (Timothy Ponce)
—
DF Whiterock (dripton)
—
Ravens N' Pennies (Christopher R. Rice)
—
Dark Paths and Wandered Roads (Jason Woollard)
—
The Gaming Musings of a Mad GM (Ken DeLyzer)
—
Dr. Kromm's GURPS Livejournal ("Sean ""Dr. Kromm"" Punch")
—
Olympus RPG Group (The Olympus RPG Group)
—
Refplace (Rory)
—
Worlds Beyond Earth (Derrick White)