Return to Norðlond with a mini-setting by Gaming Ballistic.
Response to the first journey to Norðlond, to find the Hall of Judgment, was outstanding, and introduced players of the Dungeon Fantasy RPG to Isfjall, a city in the depths of the barbarian north. Now, journey from Isfjall to Norðvorn, the magnificent castle and town that anchors both Audreyn's Wall and The Palisade.
The Citadel at Norðvorn is coming to Kickstarter on February 19
From the northeast, the dragonkin threaten; from the northwest, the Hunted Lands are simmering, and about to boil over with hostile faerie. And of course the peoples of Norðlond are troubled by scheming, demons, and schemin' demons.
Citadel will contain three large settlements: Norðvorn itself, home to 7,500 residents including the Castellan and the Wardens. Longbru, opposite one of the sallyports in Audreyn's Wall, a town from which many adventurerers depart into the Dragongrounds . . . but not all return. And Ainferill, a town in turmoil after the tragic "accidental" death of the Jarl's wife and adult son. It also spends some time to talk about what is between the big settlements: details on some sample villages, many important NPCs and what they care about, and a tangled web of danger and deceit that the PCs can engage with, or not, as they choose.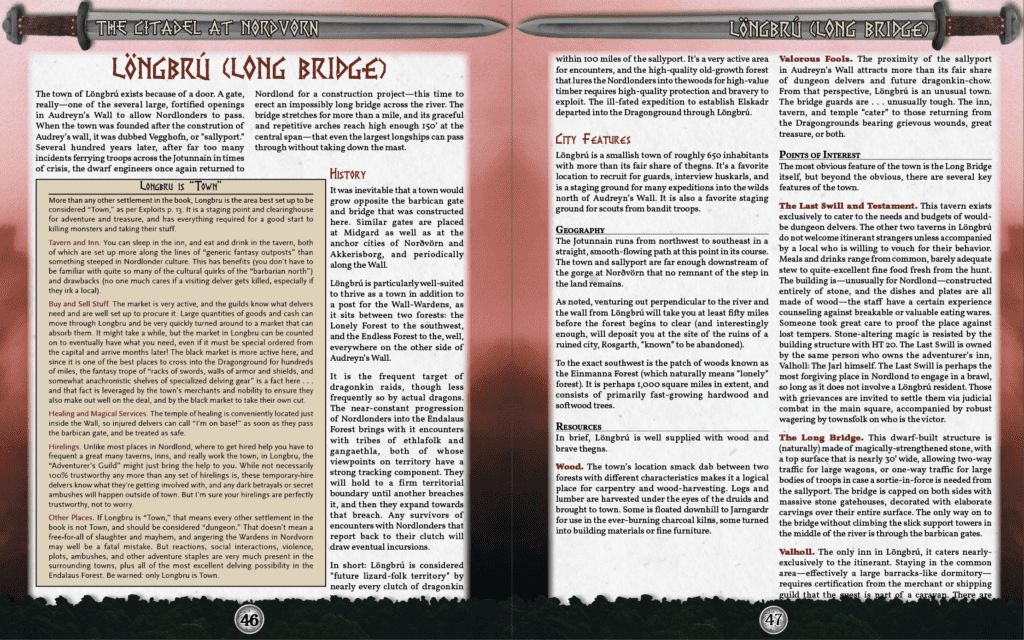 Citadel is a mini-setting for the Dungeon Fantasy RPG, again licensed by Steve Jackson Games to Gaming Ballistic. It will contain the locations above, plus important and not-so-important people and factions, each with their own goals. The entire region is about to burst into chaos . . . can the PCs find out why, and help contain the coming dark?
Citadel is planned for 80 pages, but I probably have enough content for 128 page or even 144 if things go very well. Stretch goals will add content in 16 page increments, improve the quantity and quality of art. As before, the book will be softcover and in 8×10″ format. If you liked Hall of Judgment, this book's production values will be at least as good.
I hope you will join me, as before, in spreading the word and helping this come to life.