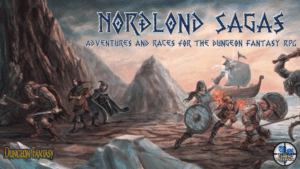 It's another GURPSDay, and here's the last few weeks of posts! My 8th Kickstarter, Norðvorn Sagas, launched on September 10, and funded on the 17th! We are now at 125% funding with more than three weeks to go. Given the trajectory of Kickstarters, we're estimated by BackerTracker to hit over $30,000, well past the highest stretch goal. With help, we may even do better. This was helped a whole lot by a surprise addition.
The Hand of Asgard presents additional options and guidelines presented for Clerics who choose to devote themselves to the worship of just one instead of the pantheon as a whole. Also included are more than twenty new Holy Might abilities available for Asgardian Clerics and Holy Warriors to bring the word . . . or the sword . . . to those that need it.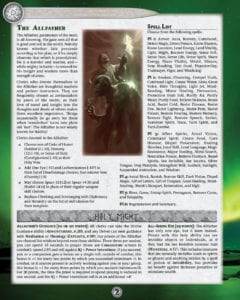 The book is 16 pages long, in 8×10 format. It is available as an add-on to a pledge level, rather than as part of an existing pledge.
In any case, we're here for GURPSDay, so scroll all the way down (the random order is, well, random). Catch up and get some repeat views and if you missed some. They're in reverse chronological order, so if you're up-to-date, just skim off the top!
News for Gaming Ballistic:
The proof of Dungeon Grappling to finally finish all the physical rewards for Citadel at Nordvorn came in brilliantly (if months late). I got 100 of them printed, and the're on the way to me (PubGraphics expedited the printing). They should be in the mail Tuesday. Finally.
I ordered all physical goods for Four Perilous Journeys except for the international card decks and counter tiles. Still working on CE Mark issues; need to chat with folks. Might have found a better option for the cards, but not the cardboard chits.
All five files for Four Perilous Journeys were accepted and the books will be ready to ship by October 4! 100 of each book will go to the UK for international distribution, and the balance come to the USA.
I announced the approval of the Nordlond Enemies Book (tentatively titled Norðlondr Óvinabókin) as my next approved Dungeon Fantasy RPG project. I've actually got an idea for a companion book that should be a very tasty treat.
GURPSDay is in its sixth – GURPSDay started in February 2013,  a year after I started Gaming Ballistic. Things have slowed down a bit, and I'll be considering how to revitalize this weekly activity. I'd like to see an average of 100 posts here per week – one per blog, ish – so we'll see what we can do to get creative juiced flowing.If you just started a GURPS blog – and I know that some of you have – email me and get on the list! With the advent of the Dungeon Fantasy RPG, Powered by GURPS, there's even more reason to write.
How? Two action items: post more, recruit more. It's really that simple. More posters is more posts, and more interest in GURPS.
Below you can find the blog activity for the last week. There's a whole lotta awesome GURPS going on. Read all the posts.
Not every blog posts about GURPS every week, but some are ridiculously prolific! The list is randomized, so different bloggers will be highlighted at the top of the post each week.
As always, if you're interested in having your blog consolidated here, navigate over to The Instructions Page and drop me a line. Take special note of the RSS Settings Fix if you're on WordPress.

—
Gaming Ballistic (Douglas Cole)
—
Dr. Kromm's GURPS Livejournal ("Sean ""Dr. Kromm"" Punch")
—
UbiquitousRat.net (Che Webster)
—
GURPS Mega Dungeon (John Morrison)
—
Dungeons on Automatic (Kyle Norton)
—
DF Whiterock (dripton)
—
GURPS Shooting Things for Fun and Profit (Mr Fix)
—
Noh RPG Group (binn05)
—
Frak Frel and Other F Words (Rigil Kent)
—
Don't Forget Your Boots (Mitch French)
—
Insidious GURPS Planning (Mr. Insidious)
—
Dungeon Fantastic (Peter Dell'Orto)
—
RogerBW's Blog (Roger Bell-West)
—
Refplace (Rory)
—
Ravens N' Pennies (Christopher R. Rice)
—
Improvised Radio Theatre – With Dice (RogerBW)
—
MoeLane.com (Moe Lane)
—
Game Geekery ("Warren ""Mook"" Wilson")
GURPS for One-Shots (9/10/19) – A road map of what I'm hoping the GURPS For One-Shots series of posts will ultimately cover.
Gateway 2019, Post-Con Wrap Up (9/08/19) – Had another rollicking good romp through the multidimensional city streets of Locus at the Gateway 2019 convention, and we even made the PCs at the table instead of using pre-gens.
—
Olympus RPG Group (The Olympus RPG Group)
GURPS Action: Consular Operations, S2E12 (9/17/19) – Our GURPS Action: Consular Operations campaign continues. The team conducts an interrogation that gets interrupted by a surprise enemy and local feds.
GURPS Action: Consular Operations, S2E11 (9/10/19) – Our GURPS Action: Consular Operations campaign continues. The team hits an arms deal in the Presidential Suite of the Burj Al-Arab. They kill some guys, make a new friend, shoot an old enemy, and make off with some intel.
—
Above the Flatline (Timothy Ponce)
—
Mailanka's Musings (Daniel Dover)
—
Generic Universal Eggplant (Enraged Eggplant)
—
Octopus Carnival (Ubiratan Pires Alberton)