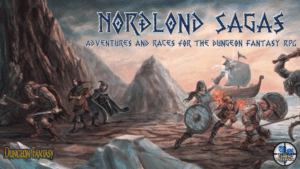 It's another GURPSDay, and here's the last few weeks of posts! Scroll all the way down (the random order is, well, random). Catch up and get some repeat views and if you missed some. They're in reverse chronological order, so if you're up-to-date, just skim off the top!
News for Gaming Ballistic:
The Nordlond Sagas kickstarter funded, but is having one of the worst cases of the doldrums I've yet experienced. About $100 per day for the last 16 days. Fortunately, there are well over 400 folks following but not yet pledged, so there's a lot of opportunity to hit the $29K stretch goal, and that's between 145-150 pledges, so there's still a good shot at that goal. The authors' manuscripts are starting to come in in more-final form, and those extra pages are going to be needed!
The swords and shields from Nordvorn were completed and shipped, save for one where the backer asked me to wait since he won't be in town. No problem there.
The card decks for Four Perilous Journeys have all arrived at the distributors. The die-cut counters shipped out to the UK last night, should arrive in a week or so. The printing of 4PJ was schedule to complete today, but with time differences to Latvia by the time I am at a computer, they're gone for the evening. And it's a weekend. I suspect we'll be ready to parse up the shipment and get it going on Monday.
News for SJG
GURPSDay is in its sixth – GURPSDay started in February 2013,  a year after I started Gaming Ballistic. Things have slowed down a bit, and I'll be considering how to revitalize this weekly activity. I'd like to see an average of 100 posts here per week – one per blog, ish – so we'll see what we can do to get creative juiced flowing.If you just started a GURPS blog – and I know that some of you have – email me and get on the list! With the advent of the Dungeon Fantasy RPG, Powered by GURPS, there's even more reason to write.
How? Two action items: post more, recruit more. It's really that simple. More posters is more posts, and more interest in GURPS.
Below you can find the blog activity for the last week. There's a whole lotta awesome GURPS going on. Read all the posts.
Not every blog posts about GURPS every week, but some are ridiculously prolific! The list is randomized, so different bloggers will be highlighted at the top of the post each week.
As always, if you're interested in having your blog consolidated here, navigate over to The Instructions Page and drop me a line. Take special note of the RSS Settings Fix if you're on WordPress.

—
Gaming Ballistic (Douglas Cole)
—
Dr. Kromm's GURPS Livejournal ("Sean ""Dr. Kromm"" Punch")
—
Insidious GURPS Planning (Mr. Insidious)
—
Ravens N' Pennies (Christopher R. Rice)
—
DF Whiterock (dripton)
—
Frak Frel and Other F Words (Rigil Kent)
—
Mailanka's Musings (Daniel Dover)
—
Refplace (Rory)
—
RogerBW's Blog (Roger Bell-West)
—
Generic Universal Eggplant (Enraged Eggplant)
—
Noh RPG Group (binn05)
—
MoeLane.com (Moe Lane)
—
Dice and Discourse (Joseph Mason)
—
Olympus RPG Group (The Olympus RPG Group)
GURPS Action: Consular Operations, S2E14 (10/02/19) – Our GURPS Action: Consular Operations campaign continues. The team enters the Ta'izz quarantine zone in search of the source of the plague.
GURPS Action: Consular Operations, S2E13 (9/24/19) – Our GURPS Action: Consular Operations campaign continues. The team is involved in a high-speed chase through Dubai, relocate to the plague-stricken town in Yemen, and reconnect with a (sorta) team member.
GURPS Action: Consular Operations, S2E12 (9/17/19) – Our GURPS Action: Consular Operations campaign continues. The team conducts an interrogation that gets interrupted by a surprise enemy and local feds.
—
Dungeon Fantastic (Peter Dell'Orto)
—
Above the Flatline (Timothy Ponce)
—
GURPS Mega Dungeon (John Morrison)