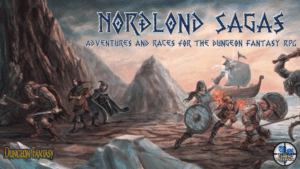 It's another GURPSDay, and here's the last few weeks of posts! Scroll all the way down (the random order is, well, random). Catch up and get some repeat views and if you missed some. They're in reverse chronological order, so if you're up-to-date, just skim off the top!
News for Gaming Ballistic:
The Nordlond Sagas kickstarter keeps plugging away in production. Backerkit phase – and thus pre-orders and a chance to get in on the stuff if you missed, or chose to skip, the actual campaign term – will begin this coming week.
Four Perilous Journeys is arriving for international backers, and they seem quite pleased. The books will make landfall on Nov 1 in the USA, and hopefully travel to Studio 2 in time to start shipping those out for US folks such that they arrive before Turkey Day. Canadian backers with card decks and counter sheets? You guys get taken care of with the US folks.
GURPSDay is in its sixth – GURPSDay started in February 2013,  a year after I started Gaming Ballistic. Things have slowed down a bit, and I'll be considering how to revitalize this weekly activity. I'd like to see an average of 100 posts here per week – one per blog, ish – so we'll see what we can do to get creative juiced flowing.If you just started a GURPS blog – and I know that some of you have – email me and get on the list! With the advent of the Dungeon Fantasy RPG, Powered by GURPS, there's even more reason to write.
How? Two action items: post more, recruit more. It's really that simple. More posters is more posts, and more interest in GURPS.
Below you can find the blog activity for the last week. There's a whole lotta awesome GURPS going on. Read all the posts.
Not every blog posts about GURPS every week, but some are ridiculously prolific! The list is randomized, so different bloggers will be highlighted at the top of the post each week.
As always, if you're interested in having your blog consolidated here, navigate over to The Instructions Page and drop me a line. Take special note of the RSS Settings Fix if you're on WordPress.

—
Gaming Ballistic (Douglas Cole)
—
Dr. Kromm's GURPS Livejournal ("Sean ""Dr. Kromm"" Punch")
—
Mailanka's Musings (Daniel Dover)
—
UbiquitousRat.net (Che Webster)
—
Don't Forget Your Boots (Mitch French)
—
Noh RPG Group (binn05)
—
RogerBW's Blog (Roger Bell-West)
—
Gnomish Workden (Gnomasz)
—
DF Whiterock (dripton)
—
Octopus Carnival (Ubiratan Pires Alberton)
—
GURPS Shooting Things for Fun and Profit (Mr Fix)
—
One Shot Adventures (J.C. Connors)
—
Refplace (Rory)
—
Frak Frel and Other F Words (Rigil Kent)
—
Olympus RPG Group (The Olympus RPG Group)
GURPS Action: Consular Operations, S2E17 (10/25/19) – Finale of our GURPS Action: Consular Operations campaign season 2. The team finally locates their quarry, waiting aboard a research boat in the Gulf of Riga.
GURPS Action: Consular Operations, S2E16 (10/17/19) – Our GURPS Action: Consular Operations campaign continues. The team escapes Ta'izz with the bioweapon samples, and follows the clue-trail to Riga, Latvia, and one of Brooks' contacts in the Russian mob.
GURPS Action: Consular Operations, S2E15 (10/08/19) – Our GURPS Action: Consular Operations campaign continues. The team trades fire with a team of unknown operators deep inside the quarantined city of Ta'izz, and discovers something unexpected.
—
Dungeon Fantastic (Peter Dell'Orto)
—
Northport (Denis McCarthy)
—
Ravens N' Pennies (Christopher R. Rice)