There's a pretty interesting thread over on the forums where someone was asking a bunch of questions about Martial Arts and Technical Grappling. So
+Peter V. Dell'Orto
and I are both happy.
But one point the author makes is that if you take two fighters, one ridiculously skilled and the other not-so-much, that as awesome as their parries get, their ability to make a non-contact avoidance move never goes up.
Partly, this is my fault, in that in TG I clarified, and +Sean Punch either agreed or let stand, that if you want to avoid a blow and totally avoid all sorts of contact, you must dodge. In fact, we clarified the hell out of it in Technical Grappling, p. 22
Dodge (see pp. B374-375)
A successful dodge means the attack failed to connect at all.
Dodging is the only way to create a "clean" miss without contact,
important if you want to avoid effects transmitted by
touch, such as some spells, electrical attacks, or cooties.
With that, though, you get the situation that bugs the original poster:
. . . all other things being equal (Say DX 12, HT 12, BS 6, Dodge 9), both Boxers in the above example can dodge the punches from a JKD Guy (Karate-14) at the same exact chance for success:
Boxing-11 guy dodges on a 9 or lower (12 or lower on a retreat)
Boxing-20 guy dodges on a 9 or lower (12 or lower on a retreat)
So DX 12 is 40 points, HT 12 is 20. Boxing 11 is DX-1, for 1 point. Boxing-20 is DX+8, for 32 points.
Just Buy Enhanced Dodge


There is, of course, Enhanced Dodge, for 15 points per +1. Exchanging some of that extra Boxing skill for dodge would get you (say) Dodge-10 and Boxing-16. Still not too shabby, and a good, balanced fighter.
You might be able to push it, though, and say that your training only gives enhanced Dodge versus melee attacks to the head and torso – the legal attacks in boxing. Bows and arrow, bullets, Muay Thai kicks to the legs? Nuh-uh.
Maybe that's 8 per level instead of 15, which would mean that for a very specific set of attacks, you get +2 Dodge instead of +1 for 16 points. Now you're Boxing-16 and Dodge-11, Dodge-14 with a retreat.
That's not bad.
Trained . . . Dodge?


Getting a bonus to dodge due to combat skill isn't crazy talk. A precision eye for reach and distance is one of the trained skills of boxing.
Hey, did I hear Trained Something?
Let's see. By the usual Trained ST progression, you get +5 to your ST if you have a skill of DX+10. That will usually cost around 40 points, which is good for +5 to Dodge using my limitations above, but about +2 if you buy enhanced Dodge straight-up.
Maybe you wind up halving the Trained progression, drop fractions, and adding it to the Melee-only Dodge above, or quartering it for all dodge. So you need to get to DX+7 in Boxing (as an example) and you can pick up +2 to Melee-only Dodge, and (or?) +1 to all Dodge. That's a maximum of 15 or 16 points of benefit there, which isn't overpowering.
Non-Contact Parry


Perhaps the simplest way to do this would be to just assume or declare that no, Dodge is not the only way to do a non-contact Parry. Some possibilities would be:
If you make your Parry by 3 or more (the equivalent of a fancy retreat), then you have avoided contact on the blow. You still take no damage on a successful parry, but if your foe is throwing Deathtouch or something, you need to either be that good, or back up, or both.
All-Out Defense (Non-Contact Parry). If you go full-defensive, you don't get the +2, but your parries qualify as not making contact this exchange.
Telegraphic Defense – again, your parries don't count as making contact if successful, but your next attack is at -4 due to how much movement you're putting into your stance. This one's pretty weak, I admit.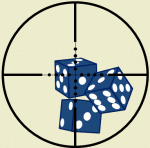 Well, for one, I'm trying to get back into actual GURPS content posts now that VR is winding down.
But it struck me that the poster on the thread had a legit point, and telling a player what is basically "hey, for every point you spend in Boxing, reserve a point for Enhanced Dodge" might not be well received . . . even if it's accurate.
GURPS already gives perhaps too little credit to overall spatial awareness for fighters crossing over disciplines. I could easily see using something like the Trained ST progression to give a skill-based bonus to Dodge, either from your best skill, or perhaps using the skill that's thrown at you. So boxers dodge punches with their Boxing Trained Dodge, but kicks using Brawling or Karate if they have it. You'd need some sort of weapon skill to get Trained Dodge from a weapon.
But the notion of having so many points dumped into a combat skill floating some of that bonus to Dodge? Not crazed. After all, the damage bonus one gets for Boxing or Karate is up to +2 points per die of damage – the equivalent of about a 60% boost to ST. Getting a defensive benefit either in addition to, or in lieu of, the offensive boost has a certain amount of logic to it.