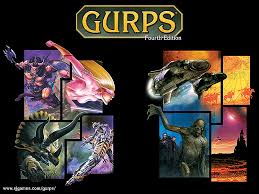 Thursday is GURPSDay, and below you can find the blog activity from the last seven days.
Over the last week, as of the end of the day on Thursday Central Time, there have been 50 GURPS-Related posts from our list of 61 blogs that have popped up on the radar screen. We picked up a new/old blog – RPG Snob – who has done a lot of good GURPS work before, and is doing more again.
We're back up to the rate that was our old usual total this week – on the average we should be seeing about one post per week per blog. We're still off that pace, but summer must be ending.
We saw the release of GURPS Adaptations last week too.
Not every blog posts about GURPS every week, but some are ridiculously prolific! The list is randomized, so different bloggers will be highlighted at the top of the post each week.
As always, if you're interested in having your blog consolidated here, navigate over to The Instructions Page and drop me a line.
—
RPG Snob (Jason Packer)

—
Dr. Kromm's GURPS Livejournal ("Sean ""Dr. Kromm"" Punch")

—
Worlds Beyond Earth (Derrick White)

—
Shooting Dice (Hans-Christian Vortisch)

—
Dungeon Fantastic (Peter Dell'Orto)

—
The Collaborative Gamer (Joseph Linden)

—
PK's Game Recaps and Tidbits (PK Levine)

—
Game Geekery ("Warren ""Mook"" Wilson")

—
Chain Link and Concrete (M. Eversberg II)

—
RogerBW's Blog (Roger Bell-West)

—
Cursed -75 Points (BowToChris)

—
Northport (Denis McCarthy)

—
Orbital Vagaries (Christian Blouin)

—
Dice and Lives (Joel Sammallahti)

—
GURB- The Generic Universal Roleplaying Blog (The_RyujinLP)

—
The Phantom's Belch (Ted Brock)

—
The Lands of Nandeme (Charles Saeger)

—
Just Roll 3d6 (Colin)

—
Southern Style GURPS (Chris Bower)

—
No School Grognard (Mark Langsdorf)

—
Mailanka's Musings (Daniel Dover)

—
Ravens N' Pennies (Christopher R. Rice)

—
Gaming Ballistic (Douglas Cole)

—
Let's GURPS (Pseudonym)