As always, my family hit Comic Con in Minneapolis. We have, for the last two or three years, made it kind of a thing, where we go all three days. That wasn't in the cards this year, since my wife was in Chicago having a meet-up with an old friend, and for a while it very much looked like few folks of interest were coming.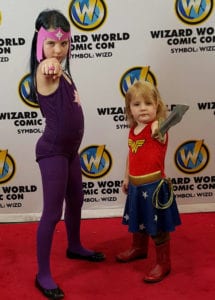 But . . . that changed a bit, and we made plans to pick up Alina from the airport, and go directly to the con. My daughter picked an unusual hero this time – Carol Ferris/Star Sapphire, probably since she's been watching the Green Lantern animated series, but she's got very good breadth of knowledge for a 7yo in both Marvel and DC, so even without that, perhaps she'd have landed there.
The costume was fairly simple – purple leotard and tights, and iron-on inkjet heat transfers. I put too much heat on the first attempt at the blaze , and so my details washed out. She didn't care. The embellishment I did for her abdomen was modeled from a champion female fitness model with great abs, used as a mask to outline a purple nebula image taken at high resolution from Hubble. With more time, I'd have put armor places on her thighs, knees, and gloves (which we had but she left at school, alas).
Go-Go's Wonder Woman costume is off-the-shelf.
Anyway, we went, and the kids got to knock around for a few hours. They always love it, but the convention had been laid out differently this year . . . in order to (seemingly to me) hide the fact that it was freakin' tiny. Far fewer artists and crafters there, so you could walk the floor for a half-hour or an hour, at most, and see everything. Especially since there were some repeats – three booths selling the same "sword-like object" video game replica weapons.
Anyway, while hopefully next year all four of us will have a theme for costumes, this year we went autograph hunting.
Nichelle Nichols
I really wanted Shannon to meet her. As one of the command crew of an interstellar ship in a show filmed in the mid-60s, she was very much a landmark figure. Not the only one, but important, and the somewhat famous exchange between her and Martin Luther King, Jr is an early restatement of politics is downwind from culture.
We found her second-to-last, but I mention her first. She was gracious and kind and engaged with my kids, especially my eldest. It was a brief chat, but a pleasant one.
Charisma Carpenter
My only rule was that I did not wish to be a giddy, 45-year-old creepy fanboy. We caught her basically alone, after she'd had a photo session. Sundays are fantastic for that. We came up, I joked that I was hoping not to be the goofy 45-yo fanboy, and she smiled and noted that's what these events were for.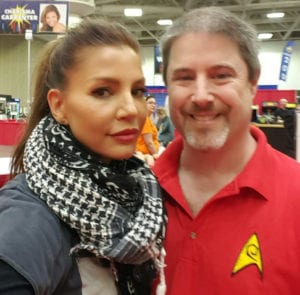 Unlike when I met Sean Astin, and tried to play it so cool that I think he disengaged pretty completely (I really have enjoyed his work, but trying not to gush came off aloof, alas), I opened with how fun I though her work was, an immediately threw my secret weapon at her: my kids and my wife. Alina's a natural redhead, and Ms. Carpenter gushed a bit about her hair. She was friendly with both my kids, and chatted with Shannon about her costume; she asked her to step back to get a full view, and chatted about the characters.
We spoke about the Twin Cities (as I expected, her "dance card" was pretty full, and she didn't really get to tour the town much, though she wants to in the future), and we talked quite a bit about Wonder Woman, which was prompted by my youngest daughter's costume. She asked what I thought about the new Gal Godot movie, and her casting in it. I said I found her credible. We agreed, though, that no one can really ever compare to Lynda Carter.
She also told a bit of a story about the development (or partial development) of the Joss Whedon script and his thoughts about it. I did note – and I meant it – that I thought she would have fit the part pretty well. She seemed to have strong feelings about the character, as an actress, an American, and as a fan. I had the impression that while she may not have read every issue of every comic, she knew the lore more than well enough, and (my words and impressions) liked her American Heroes to be, well, American heroes. I can respect that (and yes, we talked about how the shows were steeped in Greek myth). There were some things discussed about the plans for the movie, way back when, that I didn't know about, so that was very cool.
(Nope. Not tellin'. It's not like it's a state secret, but it was a good conversation between two people, and I was there as a fan, not a journalist. A quick search shows that the tidbits discussed may have been alluded to, but not said straight-out. So this chat stays with me.)
Definitely the highlight of my visit to the Con today.
Nicholas Brendon
Brief but personable and warm. I seized the opportunity with no line to nab a signed photo, which will go on our wall in the movie room downstairs. He'd been in the Twin Cities recently filming The Nanny (he has second billing on IMDB), but I didn't find out much about it. He seemed quite nice.
John Barrowman
The first autograph we got, and the quickest. Signed, a few pleasantries – Alina was enthusiastic about Torchwood, and I mentioned I'd enjoyed the hell out of his Merlin character on Arrow over the years. He thanked us. That was about it. That one was also the biggest line (but still very, very short) so perhaps that was to be expected.
Observations
Sunday is tired-day at these cons. Attendance is down, things are sold out, and the actors/celebrities are winding down from what's usually a lot of travel, a bunch of "see this, do that, meet with a personal friend, maybe, then hotel and next day back to the con." I was putting up a banner that had fallen down due to entropic duct tape, and the booth-guy said "hey, thanks for that," and I was like 'Yeah, day three." And he gave me a look like "yes. He gets it."
I'll definitely remember my chat with Charisma Carpenter, though. Frankly, both Charisma and Nicholas seem like the best plan there is to go out with them, have a nice, classically American meal in a decent but not hoity-toity restaurant, and good conversation and fun times will ensue. Much like when I met Adam Baldwin, my impression here is "good folks."
Also, my not-quite-3yo is not yet ready to face Bane. Can't blame her.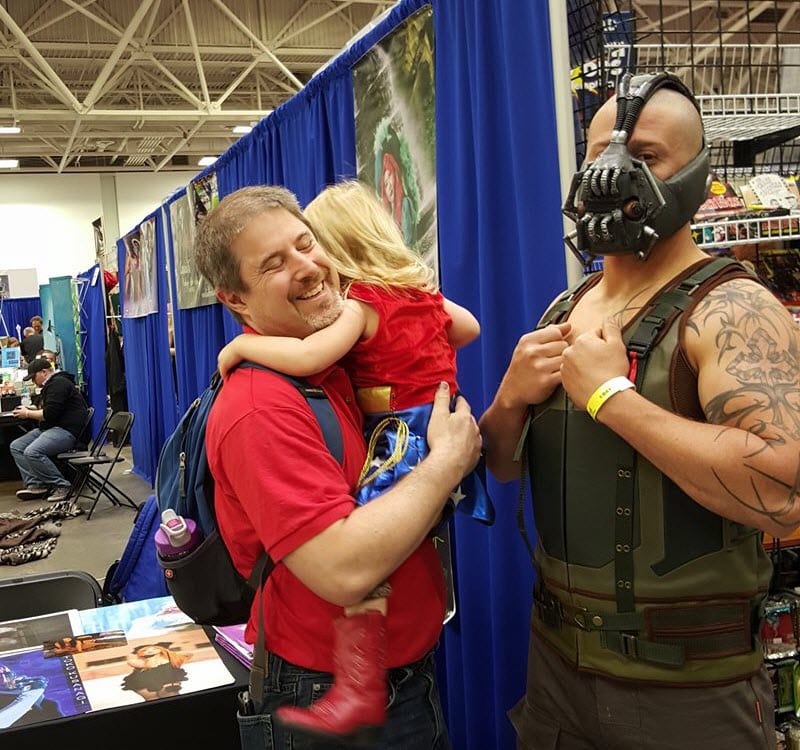 On the other hand, my daughter got a "Hey, we're all DC heroes here!" from the guy in the Flash suit at the DC/TV booth, and he both recognized her character and made a reference that Ferris Air had already appeared in the Arrowverse. So kudos there.